This is an archived article and the information in the article may be outdated. Please look at the time stamp on the story to see when it was last updated.
(CNN) — The Oklahoma Teachers Association will extend its five-day walkout into next week, group President Alicia Priest said Friday.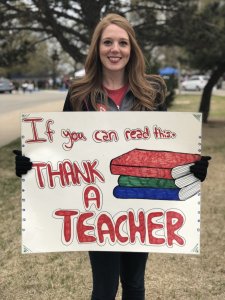 Before the walkout can end, the legislature must pass a bill ending the capital gains deduction and the governor must veto the repeal of a hotel-motel tax bill, Priest said at a news conference.
"We will be here Monday and Tuesday to get this done," Priest said.
Friday was the fifth consecutive day Oklahoma teachers packed the state Capitol as lawmakers discussed three measures that affect education funding.
More than 55 of the state's 500-plus school districts — including those in Oklahoma City and Tulsa — were closed Friday because of the walkout, CNN affiliate KOCO reported.
Three measures at stake
Teachers pressured lawmakers on three bills that saw action.
1. The Senate approved a bill amendment Friday that would require third-party retailers selling though internet outlets such as Amazon to collect sales tax from customers or inform them how much they owe in sales taxes. The House approved it earlier in the week. The bill could bring in about $20 million annually in education funding.
2. The Senate approved a "ball and dice" tax for gambling Friday. Senate leaders are saying it will not add any income to this year's education funding but Priest, speaking at the news conference, said it would help.
3. The Senate followed the House's lead and repealed a hotel and motel tax as part of Bill 1010XX. This action removes around $43 million from the education funding bill. Senators claim that they can make up that shortage through other revenue in the bill.
It's still unclear whether the bills passed Friday helped teachers gain funding or covered only the education funding bill passed last week.
The Oklahoma Education Association says the motel tax, which it says would be paid by mostly nonresidents of the state, would add millions in revenue and opposes its repeal.
"We strongly disagree with this repeal and are asking senators to vote no on the repeal of the hotel/motel tax," Katherine Bishop, the group's vice president, said in a Facebook message Thursday. "This is a valuable revenue source that could provide much needed additional funding for our kids and is widely supported by the public."
The association wants the Senate to approve the first two measures — the third-party internet sales-tax collection bill and the "ball and dice" tax.
If those two pass, "this would make a major victory for our students that would not have happened without the thousands of people who have come to the Capitol to make their voices heard," Bishop said. "To be clear, this is why we are here, because we all want to do more for our students."
'You don't mess with teachers'
Teachers in Oklahoma say more spending on education is needed, asserting that school facilities, equipment and textbooks are rundown, outdated or in short supply.
The educators and state government are at odds over salaries and funding. Gov. Mary Fallin recently signed a bill that raises the average teacher salary by $6,100, but the teachers' union wanted that figure to be $10,000.
The state ranks 49th in the nation in teacher salaries, according to the National Education Association, in a list that includes Washington, D.C. Only Mississippi and South Dakota rank lower than Oklahoma.
Fallin also signed a bill that raises education funding — money for textbooks and the state-aid formula — next fiscal year by $50 million; the teachers' union wanted that number to be higher.
Since Monday, teachers have swarmed the Capitol with signs and slogans.
"I think they thought we were not going to come out in the forces that we did, especially throughout the week … but we're holding strong, and you don't mess with teachers when we're trying to fight for our kids," Amanda Girdler, a fourth-grade teacher, told CNN.
Threats against lawmakers investigated
The Oklahoma State Bureau of Investigation is investigating threats made against lawmakers they believe are related to the walkouts, according to Jessica Brown, a spokeswoman for the OSBI.
Brown declined to elaborate but did say investigators don't believe the threats are being made by teachers. At least three cases have been opened in the last two days.
Meanwhile in Kentucky …
In Kentucky, teachers also protested in their state Capitol earlier this week in Frankfort.
They are upset over a controversial pension bill that state lawmakers passed last week.
The bill would affect new teachers and move them to a hybrid cash-balance plan rather than traditional pensions, and would limit new sick days that teachers can put toward their retirement. Senate Bill 151 is now at Gov. Matt Bevin's desk. Supporters of the bill said the changes are necessary to save the state's pension systems.
When teachers came to Frankfort on Monday to protest the pension overhaul, the state Legislature passed changes to the tax system called House Bill 366.
An analysis of that bill by the Institute on Taxation and Economic Policy found that the measure would bring a huge tax cut for the richest 1% of residents, while the biggest tax increase would affect those making less than $21,000 a year. A fellow with the Kentucky Center for Economic Policy described it as "a tax cut for Kentucky's richest people paired with a tax increase for the middle class and the poor."
It's unclear whether Bevin will sign the bill.