This is an archived article and the information in the article may be outdated. Please look at the time stamp on the story to see when it was last updated.
GUNTERSVILLE, Ala. (WHNT) — Search dogs joined a dive team at Lake Guntersville to try to find the body of a Marshall County man who jumped off the Veterans Memorial Bridge.
Investigators said 20-year-old Deonta Markey Griffin jumped off the Highway 431 bridge in Guntersville late Saturday night after a high-speed chase that began in Boaz..
Search and rescue squads from DeKalb, Etowah, and Morgan Counties assisted Marshall County teams earlier in the week as they tried to find Griffin in the Tennessee River.
The Smith Lake Task Force brought their dive boat Thursday from Walker County, and dropped video cameras nearly 100 feet to the lake bottom to try to spot Griffin's body.
"Instead of sending divers down and putting those guys in harm's way, we can find what we're looking for by camera and then send the diver down," John Williams said.
"It's huge area, and with current there's low visibility, and when the camera hits anything it makes silt so you have to wait a minute.  It's tough conditions."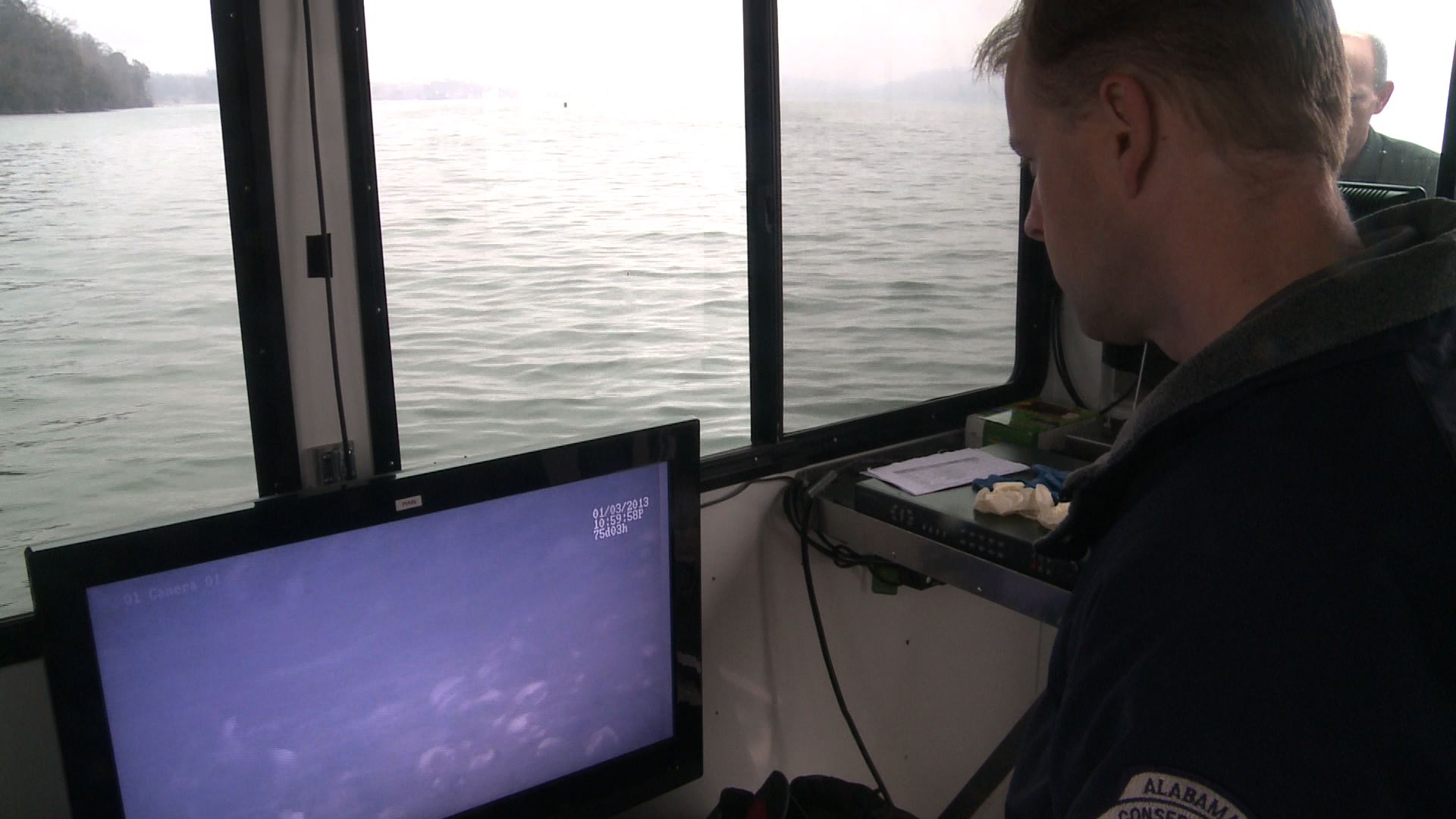 Search teams are hopeful the current didn't carry Griffin farther down the river as he sank.
They focused their cameras beneath the spot on the bridge where police saw him jump.
"We're going on their SONAR reading and what the officers that were in the pursuit of the subject, of where they saw him go in at and the last sighting of him," Williams said.
"It's like a combing process, it takes a lot of patience,"he said.
As they had all week, Griffin's loved ones gathered at the northwest end of the bridge to watch and wait with the hope these and other specialists could find his body.
SARTEC K-9 Unit
, a volunteer search team from Madison County, was also on the water Thursday with dogs taking turns riding in three different boats to try to sniff a scent.
"Our dogs will be able to smell, as sometimes the cadaver can give off a gas and our dogs can pick that up from the water," SARTEC member Read Klos said.
"The dog's nose is about 10 thousand times more sensitive than a human's, so they get out there and they can sniff people or cadavers," he said.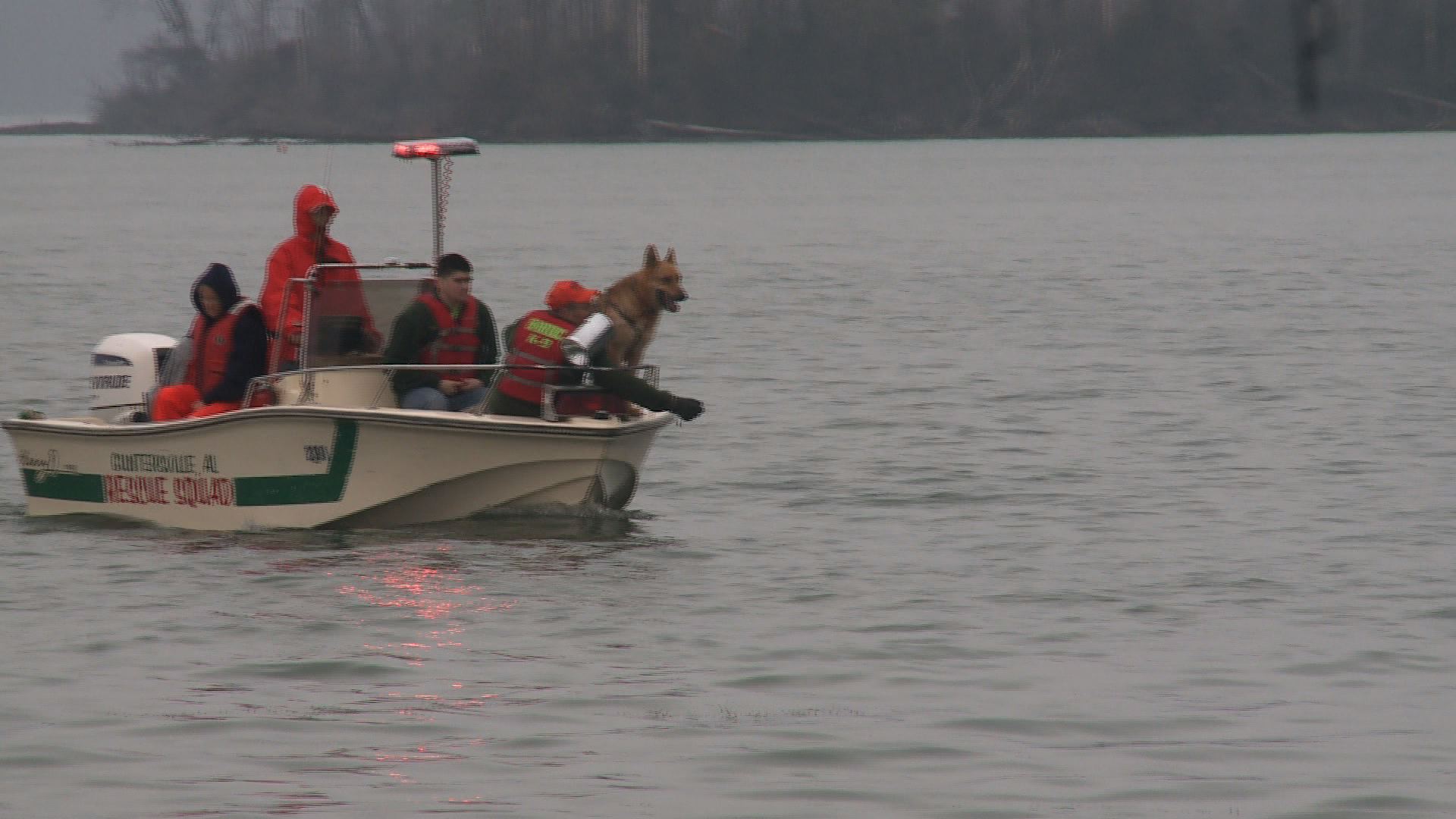 SARTEC plans to return Saturday to further assist in the search for Griffin's body.
Boaz police chief Terry Davis said officers went to a house around 7:30 Saturday evening to arrest Griffin on some outstanding warrants.
Investigators said Griffin was wanted by Boaz police for failing to appear in court for domestic violence, and the Marshall County Sheriff's Office also had warrants for his arrest for a probation violation, theft of property, and additional felony charges.
Police said no one answered the door, but an officer saw Griffin driving through town around 10:30 p.m., and the chase began on Highway 431 north toward Huntsville.
Davis said police in Albertville used spike strips to try to slow Griffin's Nissan Altima as speeds neared 100 miles per hour, but Griffin kept going, and they tried to deploy the spike strips again in Guntersville.
As Griffin reached the McDonald's in Guntersville, where Highway 431 divides and northbound traffic is re-routed on Blount Avenue, police said Griffin continued north in the southbound lanes of Gunter Avenue and continued to speed through downtown.
Chief Davis said Griffin got out of his still-moving car on the bridge, around 10:45 p.m.
He then went to the guard rail and jumped over the side.
Police said it was about a 75 foot drop to the water, which Davis said is 70 to 75 feet deep, and investigators said the water temperature was around 36 degrees.
Davis said a couple of officers said they spotted Griffin in the water, swimming with one arm, but lost sight of him as he swam under the bridge.
Officers stayed on the scene until 3:00 a.m., and returned around 7:00 Sunday morning.
On the second full day of the recovery effort WHNT News 19 asked Davis if there had been any discussion of cost/benefit analysis regarding the decision to pursue Griffin on a busy section of Highway 431 on a rainy Saturday night.
"That's a good question I've thought about that since all this went down," the chief said.
"Policy was followed completely.
"Fortunately no one else was hurt, unfortunately this wound up to where we are now where he jumped or fell off the river bridge and now we're in this recovery mode."
Davis said Monday he remained in close contact with Griffin's family members.
"I told them how sorry we were he jumped off the bridge, but I'm not sorry for the pursuit."