This is an archived article and the information in the article may be outdated. Please look at the time stamp on the story to see when it was last updated.
BRYANT, Ala. - Two people are charged with cruelty to animals stemming from a situation the Jackson County Sheriff's Office animal enforcement deputy said was one of the worst he's seen in a long time.
Deputies arrested Helena Michelle Moses and Joseph Lee Fisher for the condition of two dogs they found at the couple's home.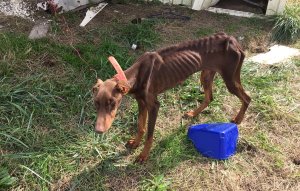 Jackson County Sheriff's Office Animal Enforcement Deputy Tony Wilbanks responded to an anonymous tip about a dog that was mistreated and severely underweight at a home in the Bryant area, on County Road 831.
"When the caller told me that she believed it was a Doberman, when I saw the dog I couldn't tell what breed it was because it was so underfed and malnourished," Wilbanks said, "It was basically skin over a skeleton walking around. It was bad."
"I could actually put my fingers together and touch fingers around the dog's midsection."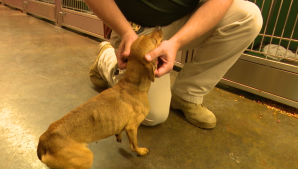 A second smaller dog was at the home too, also malnourished. Wilbanks told Fisher and Moses they could get them to a vet immediately, or if he didn't hear anything by the end of the day he would sign warrants on the couple the next day.
He said he didn't get any calls, and he also tried to reach the couple several times. Wilbanks served the warrants and took the dogs immediately to the vet. Helena Michelle Moses and Joseph Lee Fisher, both 27, were arrested Wednesday.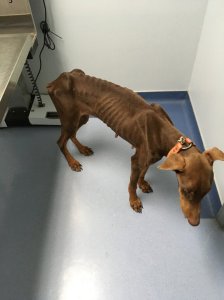 "The vet said this is the worst case she's seen in a long time around here. It's also the worst case I've seen in a long time," Wilbanks said.
The large dog should have weighed around 70 pounds. "This dog, we put on the scale, weighed 37 pounds," Wilbanks said.
The little dog is underweight too. She's at the Scottsboro / Jackson County Animal Shelter. The Doberman is with a foster family. "We've got someone caring for this dog throughout the whole day," Wilbanks said. The smaller dog is in better shape, so she was able to go to the shelter to be cared for.
"You know, there's no reason why these dogs should look the way they looked," Wilbanks said.
Moses and Fisher are both free after posting $300 bonds.
"We've gotten calls from people across the state, other states, that want to donate and help take care of these dogs. It's amazing. It's great," Chief Deputy Rocky Harnen said. Because of that, the clerk at the sheriff's office organized a fundraiser through the department so people can make donations, and all of the money raised will be strictly for their care.
"When they recover, and we're hopeful they will, then they'll have to go through court and if a judge determines they need to be awarded to the county or adopted out, then we'll go through the process through the shelter of finding a good home for them to take care of them," Harnen said.
"I know I've had six or seven calls from people saying 'I'll take it, I'll take it.' It's amazing."
Harnen said they'll periodically post pictures of the dogs to the sheriff's office Facebook page so people can see their progress.