This is an archived article and the information in the article may be outdated. Please look at the time stamp on the story to see when it was last updated.
JACKSON COUNTY, Ala. – Two weeks has made a big difference in the health of a dog found starved and barely able to walk at a Jackson County home.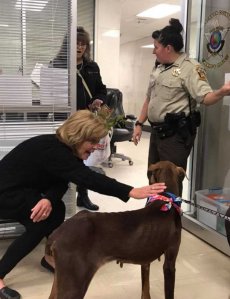 The Jackson County Sheriff's Office shared a picture Thursday of Jenny, the dog that was found at a home in Bryant. Jenny has gained 10 pounds since being found and had just been treated to a spa day at a groomer.
Authorities seized Jenny and another dog named Suzie from a home on County Road 831 in Bryant in late October. Both dogs were severely malnourished, they said, and an animal control officer said he could close his hands around Jenny's midsection.
Jenny weighed 37 pounds after being seized — almost half what a veterinarian said she should weigh.
The sheriff's office said the other dog found at the home, Suzie, also is doing well.
Both dogs are with foster families, and the sheriff's office said Jenny comes by for regular visits.
Their owners, Helena Michelle Moses and Joseph Lee Fisher, both 27, were arrested and charged with animal cruelty.
Authorities said the two dogs will likely be put up for adoption once they're better.