This is an archived article and the information in the article may be outdated. Please look at the time stamp on the story to see when it was last updated.
Strong to severe storms are still possible late tonight/early Wednesday. Currently showers and storms stretch from near Chicago, southwest into Texas, with tornado and severe thunderstorm watches extending from western Illinois to central Texas.
The Moderate Risk area was expanded late this morning and now stretches from extreme northeast Texas, to extreme southwest Indiana. The 'Moderate Risk' area clips extreme Northwest Alabama, with almost the rest of the Tennessee Valley included in the 'Slight Risk' area.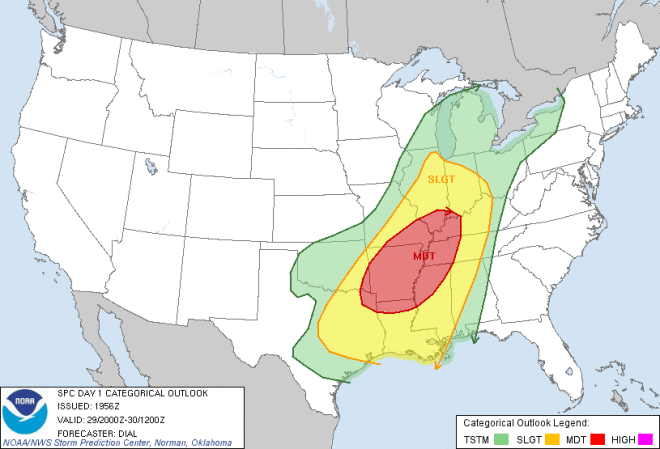 The main threat with the line of storms continues to be widespread strong-to-damaging straight-line winds, with a significant threat in the 45% hatched area, with a 30% hatched area outside of that, encompassing northwest Alabama and southern middle Tennessee along and west of I-65.
Timing & What To Expect:
The main time frame for storms is between 2:00 am – 12:00 pm Wednesday, give or take a couple hours before, with the worst of the storms between 4:00 – 11:00 am, with lingering light showers/drizzle possible in the afternoon. The line of storms currently across the southern plains will progress eastward tonight, as it does so models are indicating showers and storms will likely develop ahead of the main line.  There is limited instability, but decent shear, with the potential for these storms to rotate, creating a tornado threat.  We are not expecting a tornado outbreak by any means, but it obviously only takes one to have significant impacts.
Models show any showers and storms ahead of the main line to weaken as they move east across the area, as the main line of storms approaches and enters Alabama.  There is a lot of wind energy with this system, and with the line of storms itself traveling 60-70 mph, widespread 40-50 mph wind gusts along the line are likely.  The main threat with any individual storms and the main line of storms will be strong-to-damaging severe gusts of 60-80 mph. Rotation is possible within the main line as well, with a low tornado threat.  Due to the recent above average rainfall, it may be easier for trees to topple over with lower wind speeds than usual and obviously garbage cans and loose lawn furniture will be easily blown by 40-50 mph wind gusts.
How To Prepare:
Make sure to secure anything loose around your house or lawn before going to bed tonight. Of even more critical importance, make sure your NOAA weather radio is working correctly and you have a way to get the latest watches and warnings if any are issued for your community.
For more information, visit the WHNT News 19 weather blog, Valleywx.com