This is an archived article and the information in the article may be outdated. Please look at the time stamp on the story to see when it was last updated.
SCOTTSBORO, Ala. -- The storms last week damaged an icon at Scottsboro High School to the point where it has to be removed, and on Tuesday the students and staff gathered around it one last time.
Hundreds of students filed out of Scottsboro High School and walked to an open field in front of the school. A large tree was roped off with yellow caution tape, highly visible from Highway 72. Eventually, the entire area was full of students, staff, school system leaders, city leaders, and community members.
"We at Scottsboro High we love our traditions. We're proud of our traditions," said principal Brad Dudley.
The tree is one of them. Estimated to be as many as 300 years old, it's special to the school - an unofficial mascot that shows passersby victories. "We roll it," Dudley said,  "First day of school our seniors go out and roll the tree. We celebrate state championships at this tree, we rolled it for that." Any time the school had something to be proud of, the tree boasted fluttering white paper. Anyone driving by could see the victory.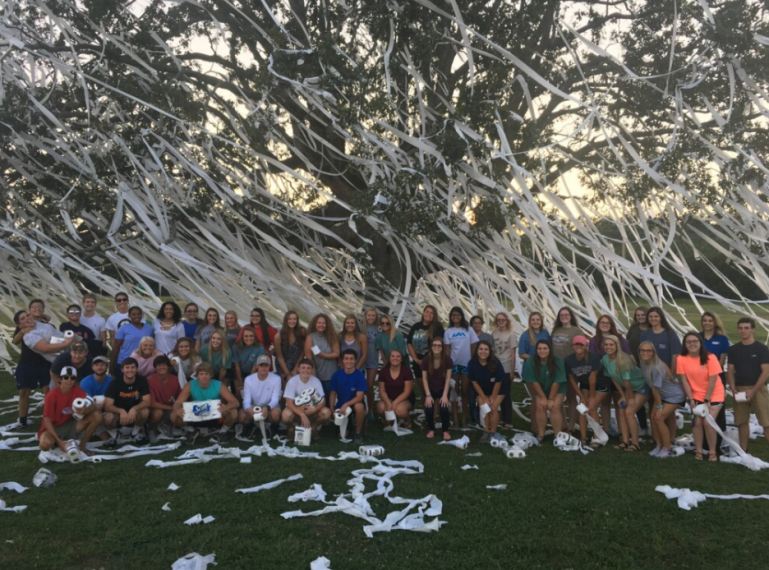 The storms last week damaged the tree to the point where it became a safety concern. Crews will be out Wednesday morning at 8:30 to cut the tree down. There will be security on site overnight.
"It's going to be really hard, but I think we're all going to be okay because it's the students and the faculty and all the people in the community that make up the school and not just the tree, so I think we're going to be okay," said student Lauren Grace Hall.
That's how the Wildcats are looking at it. "As a junior going into your senior year you do look forward to rolling the tree the night before so it is sad, but like Lauren Grace said, the faculty, and the students and the community as a whole make Scottsboro who they are," added student Claire Megehee.
It's always bittersweet when a tradition ends. Bitter because it's over, but sweet because there are memories.
System leaders say the area in front of the school will still be a place to celebrate victories, and they're hoping to save as much of the tree as they can to be used later in the school to remember it.