This is an archived article and the information in the article may be outdated. Please look at the time stamp on the story to see when it was last updated.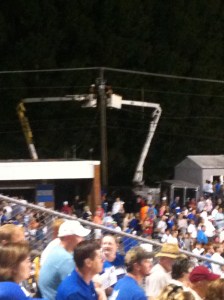 ARAB, Ala. (WHNT)– It was a rocky start to kickoff for the high school football season for Arab vs. Cullman.
Officials report a blown transformer took out the lights around most of the city, including the stadium.
As of 8:50 p.m. Friday night crews were able to get the lights back on in the stadium for the game, but there is still no working score board and coaches can't communicate with staff in the press box.
Send us your pictures from the game on Twitter use the #FBFriday