This is an archived article and the information in the article may be outdated. Please look at the time stamp on the story to see when it was last updated.
LIMESTONE COUNTY, Ala. (WHNT) -- In the heat of America's gun control debate we have heard pleas from the floor of Congress; seen weeping parents' faces illuminated by flickering candle light at community vigils and witnessed sign-toting protesters along picket lines. Likewise we have seen gun ownership numbers balloon nationwide as local law enforcement leaders ensure those they serve that their second amendment rights will not be compromised at any cost. One of the loftier--some say ridiculous--propositions included the signing of an online petition under the notion individual states, including Alabama, would somehow be better off by seceding and becoming their own sovereign nations. As passionate, embattled and divisive as the struggle has become to reconcile rights, rifles and rational fears, some are separating themselves from the drama, intrigue and emotion by taking a simpler approach to political proselytism.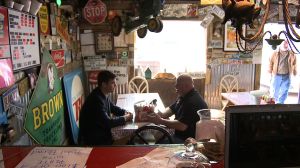 Thursday Hickory Barn Barbeque Restaurant located off U.S. Highway 72 near Athens began a special discount promotion. Owners are advertising in lights one dollar off the cost of any barbeque plate--if, that is, patrons are card-carrying gun owners.
Restaurants rarely stick their nose in politics. Hickory Barn owner Bill Davis admits he is less of a politician and more of a purveyor of perfectly succulent pork butt--but:
"You hear in the news all the time," says Davis, "about all the bad publicity surrounding guns--people getting killed, school shootings and different things like that--but you never hear the good side of it."
Davis says he carries a pistol with him wherever it is permissible. In fact, Davis says he has spent his whole life around guns. His father retired from the Huntsville Police Department and his family owned a gun shop in Madison for years.
"I thought it would be nice to be able to appreciate some of these folks who choose to carry a concealed weapon but choose to do it the right way and get a permit."
"It's a pretty bold statement," says Hickory Barn patron Aaron Bishop who says he stops in  once or twice a month for the pork plate.
"I think it's very bold especially with the political environment we're in right now. Of course I support it so I don't have a problem with it," Bishop says.
For Davis and his staff the promotion has not only been the voicing of a political stance, it has been a shrewd business move as well.
"We've had permits from Alabama, Tennessee, North Carolina, Utah and Washington State just yesterday," Davis smiles, "It's just an open invitation for those with a permit to come and eat a little with us and the response has been tremendous."
Click here to visit and like Hickory Barn's Facebook fan page.