This is an archived article and the information in the article may be outdated. Please look at the time stamp on the story to see when it was last updated.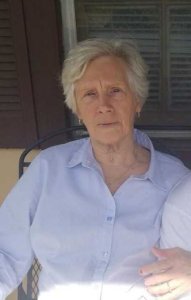 GUNTERSVILLE, Ala. – Guntersville Police Chief Jim Peterson announced an arrest in what is now a triple homicide investigation. Marie Martin, 74, and her great-grandson, Colton Lee, 7, were found dead at a home on Mulberry Street on Friday. Police say Martin was looking after Colton when it seems someone came into her home and killed them.
During the initial investigation, authorities performed a welfare check on Martha Dell Reliford, and she was also found dead in her home on Mulberry Street.
Monday afternoon during a news conference, Guntersville Police Chief Jim Peterson said his investigators have charged Jimmy O'Neal Spencer with four counts of Capital Murder on three separate victims in connection with the investigation. According to the jail log, Spencer is facing capital murder during robbery 1st degree, capital murder when victim is less than 14 years of age, capital murder of two or more persons, and capital murder during robbery 1st degree.
Spencer is currently held without bond in the Marshall County Jail.
"I am very sad for these families, but I am also very proud of these officers," said Chief Peterson. "This is the most impressive police work that I have ever personally witnessed, ever."
Spencer is not from Guntersville, and he has a criminal past. "Mr. Spencer's from Franklin County. He's spent a number of years in the state prison system. He's not been out of the system that long. How he got here, we're not totally sure. Been here for a short period of time sleeping on park benches, occasionally in hotel rooms around," explained Marshall County District Attorney's Office Chief Investigator John Young.
Police have not yet said what the motive was or if Spencer knew the victims. Peterson did say the deaths did not happen at the same time.
"From the first time they developed a suspect until he was stopped by a uniformed patrol officer was 42 hours and 16 minutes," Peterson said, "Work has been nonstop since Friday, this past Friday, at 4:36 p.m. when we received the first call there was a problem."
The victims' bodies were sent for autopsies, which officials completed. "Those bodies are about to be released to the family," Peterson said, "On relation to that going forward, I professionally can't speak to the manner of death until I have a letter from the Department of Forensic Sciences." That could come in the upcoming days.
Early in the investigation, officers said a vehicle was stolen from Martin's home. Peterson said this case is far from over.
The scene had police presence around the clock. "Processing is very critical to the case and we're not going to rush that in any manner," Peterson explained.
A fourth person was also found dead at the same time in the same area. Police say that James Michael Baker, was reported missing from his home in Albertville early Friday morning. Investigators say they have no reason to believe he died of anything other than natural causes, but they are waiting for official autopsy results.
Initially, police detained Christopher Chambers as a person of interest but he was ruled out as a suspect. On Sunday, Peterson said Chambers was in the Guntersville City Jail because he had outstanding warrants with multiple agencies. "He is free to take normal course of action on Failure To Appear warrants as anyone else would who was arrested," Peterson said.
Peterson said they almost never see a case as graphic as this. "We have a 7-year-old boy who's been brutally murdered, along with his grandmother," Peterson said. "That's pretty tough on anybody. A lot of us have been doing this for a long time."
Outpouring of support for investigating officers
People in the community showed an outpouring of support for the officers working this case by providing them with meals and drinks as they investigated around the clock, and stayed on the scene.
Kari Altom brought armfuls of bags inside the Guntersville Police Department Tuesday morning. It was dinner for the officers on duty.
She's a lifelong member of Guntersville Church of Christ. When the news broke about the double homicide investigation, the members decided to do something to help the officers working it. "I went to church Sunday morning and made an announcement, and by the time I left I had $550 to go and buy food for the police."
"I still have people texting saying 'what can I do, how can I help?'"
A GoFundMe account has been set up in order to help the family to help pay for expenses and set up a memorial "to bring honor to Marie and Colton."
The church members supplied drinks and snacks for the officers on scene and dinners for every officer working over the last several days. "I cannot overstate the support we've gotten from the community," Chief Jim Peterson said, "There's just no way I could mention it all. Everybody needs to eat. It's really hard for us when we're on a scene like this. We've had a tremendous outpouring from churches, and just private citizens."
"I had pretty early on a text from an individual in town that immediately offered $5,000 for a reward," he added.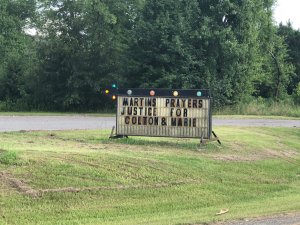 It wasn't easy for the officers to investigate a case involving a seven-year-old.
"I know they're having a hard time, so it's just to show them that we love them and let them know that we're praying for them," Altom said.
Neighbors are understandably shaken. "It could've easily been anybody down here, you know," said Brad Bruner, one of Martin's neighbors. We're all used to a quiet neighborhood. It's family down here, man."
"You see it in the movies, you see it on the news, but when it's in your neighborhood, it's crazy man," Bruner said.
A family member of one of the victims released the following statement to the public:
"The family of Marie Kitchens Martin and Colton Ryan Lee wants the public to be very diligent when coming across prayer vigils and GoFundMe's for the family. An organization called "Lock Dwn Ranch Outreach" has created a prayer vigil event for the victims on July 28 from 6:00 p.m. until 8:00 p.m. at Civitan Park. However, the family has nothing to do with the organization nor the prayer vigil. Many churches have been supporting and helping the family during this time. The family also wants to thank the police officers and investigators for all their hard work and everything during this process as well. The family urges to be careful where you donate money to. The family also requests that if people want to donate, they should donate to the police officers and bring them waters or feed them meals."