This is an archived article and the information in the article may be outdated. Please look at the time stamp on the story to see when it was last updated.
DOUGLAS, Ala. -- Someone burned a dog in Marshall County, and while Sky recovers, her owners and the police are trying to find out who did it. Several people stepped up to offer a $5,000 reward for information.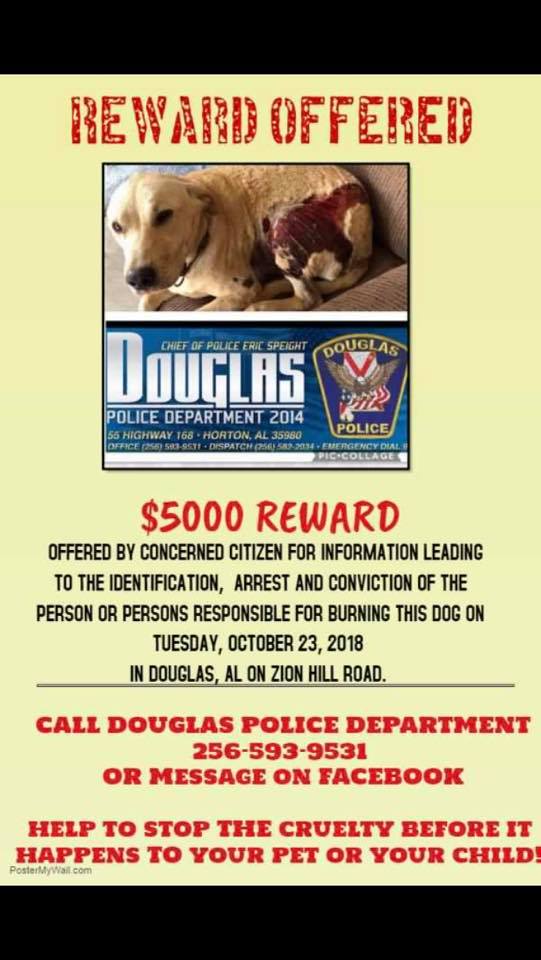 The dog's owner, who did not want to be identified, said the dog, named Sky, was burned last Tuesday night. She said her son heard the dog crying loudly outside and they went outside to find her rolling on the grass. The owner said her neighbor saw the dog running, on fire.
"It ran off that night, so actually, they thought the dog had been shot," said Douglas Police Chief Eric Speight.
The dog's family searched for her for hours, but couldn't find her. "It comes back the next day, they check on her, they could see she had been burned. That's when they took it to the vet," Speight said.
A concerned citizen offered a $2,500 reward for information leading to the identification, arrest, and conviction of the person or persons responsible. Someone else added $500. Now the reward is up to $5,000. The dog's owner said they've had several people who wanted to add more, and others still who want to donate to Sky's care.
"We're asking from the public, any help that they can give us to bring these people to justice, because that's awful to do to an animal," Speight said, "It's terrible."
WARNING: The images in this gallery might be upsetting
Sky's owner described her as 'precious' and said she never bothers anyone where they live on Zion Hill Road in the Douglas area. The owner said her family is grateful to everyone who reached out to see what they could do to help.
All tips can be anonymous. You can reach the Douglas Police Department by calling (256) 593-9531. You can also send a message on Facebook.