This is an archived article and the information in the article may be outdated. Please look at the time stamp on the story to see when it was last updated.
HENAGAR, Ala. – After being temporarily removed on Friday night, the Facebook page for a Tennessee Valley Drive-In has been restored.  The owners made a post saying that the theater would not run the new Beauty and the Beast because of a homosexual character.
The owners of the Henagar Drive-in Theatre in DeKalb County took to social media to make the announcement Thursday night.  The post and the Henagar Drive-In Facebook page could not be found Friday night but returned Saturday evening.  At this time it's unclear if the owners removed the page or if the removal was a precaution from Facebook, which will temporarily remove a page if it's reported too many times.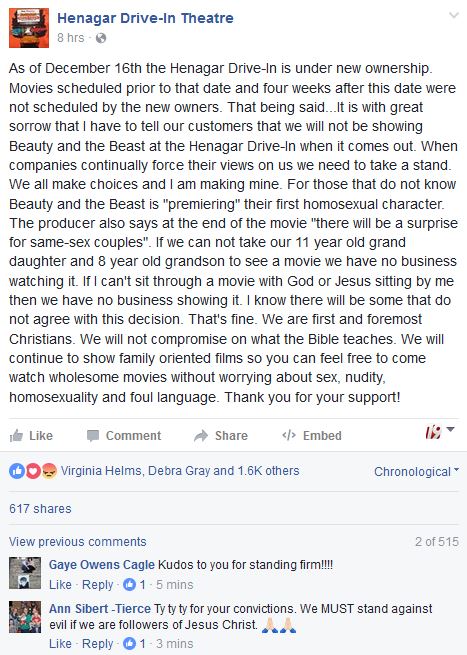 The post to the theatre's Facebook page points out the drive-in has new owners as of December, and those new owners have changed their criteria for how they choose what they will show on the big screen. "If we can not take our 11 year old grand daughter and 8 year old grandson to see a movie we have no business watching it," states the post. "If I can't sit through a movie with God or Jesus sitting by me then we have no business showing it."
The owners are referring to the news from Disney that the new live-action film will debut its first openly-gay character.
Beauty and the Beast Director Bill Condon describes the character as "somebody who on one day wants to be Gaston and on another day wants to kiss Gaston."
Drive-in owners also say the movie's producer has alluded to "a surprise for same-sex couples." They say they understand some may be upset with their decision. However, they conclude their note saying:
"We are first and foremost Christians. We will not compromise on what the Bible teaches. We will continue to show family oriented films so you can feel free to come watch wholesome movies without worrying about sex, nudity, homosexuality and foul language. Thank you for your support."
The post went public at 9:06 p.m. Thursday. As of 6:30 a.m. Friday, it already had more than 600 shares and 500 comments. While many were critical, others were supportive of the theatre's decision, with some saying Christians need to take a stand for what is right. Others state the drive-in had lost their business forever.
Henagar Drive-In owner Carol Laney said that when she took over the drive-in with her husband, they had a strict policy on what could be shown.
"As business owners we take pride and caution in showing discernment in what we play at our drive-in," said Laney.
Her goal with the drive-in was to show movies that all families can watch.
"This by no means is sending a message of hatred or bigotry. However, we are Christians first and foremost and must admit to our Bible and Christianity," she explained.
She said this decision was long thought out. They were excited about the movie originally, but had to opt out of showing it because faith comes first.
"We respect the choice of others who choose to respect other movie theaters by watching this move. However, we hope that you respect our choice not to play it at our drive-in."
The post has garnered a lot of discussion both for and against their decision on social media.
"My first thought was I knew it was probably going to cause problems," said Megan Garner of Henagar.
Garner said she's known the owner of Henagar Drive-In for quite some time and the decision that Carol Laney made isn't surprising.
"When she first bought the drive-in, she told me 'I'm trying to look and see if I can get me sensors to block curse words and stuff.' She's very serious about this. I mean she's been that way since she bought it."
Megan Garner said she believes the decision not to show the film isn't coming from a place of hate.
"I don't think that Carol is aiming this toward a group of people. I think she's just standing up for what she believes in," she explained.
And she respects her choice not to show the movie. "You know it's her business, so if she wants to uphold her beliefs. I think that we should respect that."
Official trailer of live-action "Beauty and the Beast:"