This is an archived article and the information in the article may be outdated. Please look at the time stamp on the story to see when it was last updated.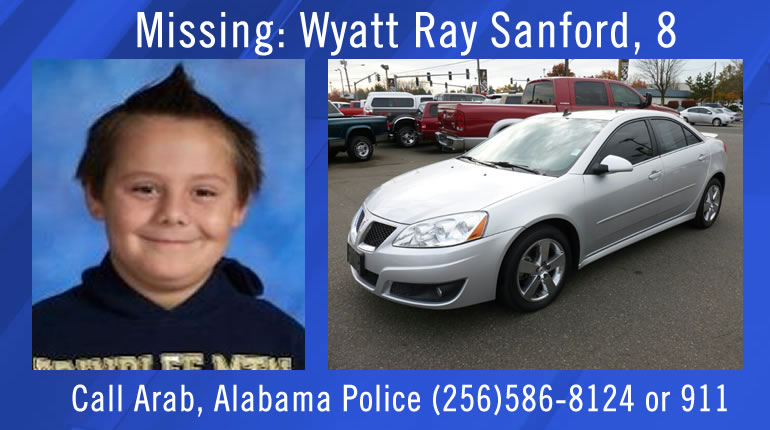 ARAB, Ala. – Arab Police are asking the public for tips about a missing 8-year-old boy and his mother.  Wyatt Ray Sanford was last seen Monday afternoon at Brindlee Mountain Primary School.  Police say his mother, Belinda Ann Miller Curvin, unenrolled him from school.
Investigators believe the mother and son may be in a white or gray 2010 Pontiac G6 with tag number AL7022AR7.  If you have any information, please call the Arab Police Department at (256) 586-8124 or call 911.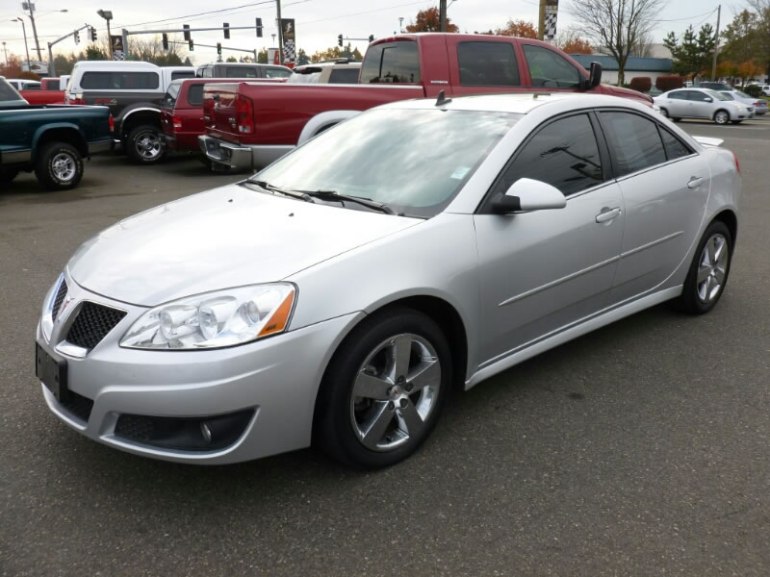 Police say the mother and father shared custody of Wyatt until a judge granted the father primary custody of him Tuesday afternoon.  The two are considered married in the state of Alabama, police said, but they do not live in the same home.  Police say the father reported Wyatt missing Monday evening.
Arab Police were able to speak with Curvin and Wyatt on the phone late Tuesday. They did not reveal their location, but Curvin told police they were taking a short vacation and "would come back tomorrow," police said.
Petition grants father primary care of Wyatt
Wyatt's father, Billy Joe Sanford, submitted a petition in Marshall County Circuit Court late Monday morning claiming he and the boy's mother share "true joint" custody of Wyatt. But that he has "exercised" primary care and control of the child.
The filing claims that Curvin has threatened Sanford if he alerts authorities and said she will kill herself and the child.
Sanford claims Curvin has spent "significant time" in in-patient mental health facilities at Marshall Medical Center North and Crestwood Medical Center.
The filing also alleges Curvin has "made concerning statements" about hurting herself and the child.
Sanford claims that in the past 24 hours she has rooted his residence, taking money from a safe, took spare keys to an automobile and the car itself, and then checked the child out of school.
She has also reportedly "threatened to abscond to the State of Texas," according to the court filing.
The petition indicates Sanford notified law enforcement. He also asks the court for custody of Wyatt until they can ensure the health, safety and well-being of the child.
Marshall County Circuit Judge Howard Hawk issued an order this afternoon awarding Sanford sole care and custody of Wyatt.
He also ordered Curvin to restore the "physical custody" of Wyatt to Sanford.
He set a hearing on the matter for April 6, and ordered the Marshall County Sheriff, local police and other Alabama law enforcement to provide "reasonable and necessary" assistance in helping deliver the child to Sanford.
Because the mother had custody of Wyatt, police issued an Emergency Missing Child Alert, not an Amber Alert, police explained.
Police said they received information this morning that made them Wyatt may be in danger. However, they did not give further details.
Community worried, on alert
Wyatt Sanford's friends and family are hoping he returns home safely.
His cousin Eric Preston said, "He's a good kid." He added, "I want people to look for him and make sure he's ok, and wherever he's at I hope he's being taken care of. I just want him to come home to his daddy where I know he'll be taken care of."
It's an emotional time for those who are close to the family, too.
Brianna Grant, a family friend, said her son is close to Wyatt. "I would never have thought Belinda would have taken Wyatt. I would never have thought," she remarked. "[My son] come home today and said, 'Can I call Wyatt real quick? He wasn't at school today.' That made me tear up."
She said there's much love, and much concern, floating around the community.
"We're really worried about Wyatt's safety. We want Belinda to just call, and let us know they're both ok. We're just as concerned about her as we are Wyatt. We want to make sure he's safe and sound."
Many hope and pray that social media will play a strong part in bringing Wyatt and his mother home safely.
Marti Jester said, "The more people that see [posts], the better the chances are he's found safe."
School superintendent says staff followed proper protocol
The last place Wyatt was seen was Brindlee Mountain Primary School. Curvin unenrolled him Monday and in the school-required exit interview, she told school staff that she was planning to leave the state with Wyatt.
According to Superintendent Cindy Wigley, parents don't have to give notice when withdrawing a student from a school system.
Teachers and administrative staff say they never saw any signs of concern prior to Monday's incident.
"School staff followed proper protocol and procedure in ensuring the custody of the child and they are fully cooperating with the authorities in the best interest of the child," said Wigley.
And while authorities urgently search to locate Wyatt and ensure the 8-year-old is safe and back at school, his peers are speaking with teachers and counselors about the situation. School staff are working diligently to keep students calm, informed and taken care of.
"The staff and administration at the school are very concerned for the child," said Wigley. "And our thoughts and prayers are with the family."
Wyatt Sanford is a white male. He has brown hair and brown eyes and also has a scar on one of his ankles. He is about 4 feet tall and weighs 100 pounds.
Police have not released a picture of Belinda Curvin.  They said the family has lived in the area for a while and the mother and son were in church on Sunday.