This is an archived article and the information in the article may be outdated. Please look at the time stamp on the story to see when it was last updated.
BOAZ, Ala. (WHNT) - Tamey Hale, a Marshall County Commissioner, was involved in a serious car accident Tuesday morning.
The wreck happened after 9 a.m. on Henderson Road in Boaz.  Hale was the passenger in a silver sedan that was hit by another vehicle.  The sedan rolled over.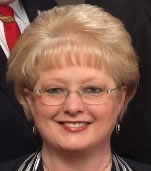 Paramedics had to use the jaws of life to free Hale.  She was taken to Marshall Medical Center South for treatment.  According to The Sand Mountain Reporter, Hale has injuries to her leg and hip, but she should recover.
Hale represents District 4 on the commission.