This is an archived article and the information in the article may be outdated. Please look at the time stamp on the story to see when it was last updated.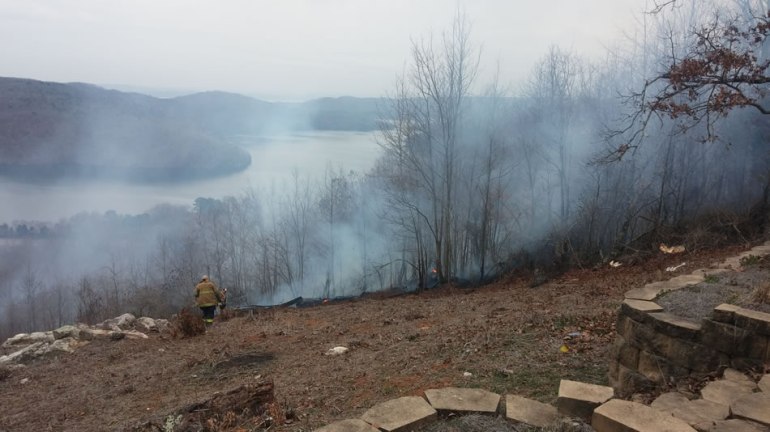 GRANT, Ala. (WHNT) – A large brush fire traveled from Hwy. 431 near Cottonville Road up Grant Mountain, spanning acres and threatening homes early Monday morning.
"There was a huge glow and I came back to her and I said 'the woods are on fire,'" Grant resident Tim Higgins says. He and his wife woke up around four o'clock Monday morning to the smell of something burning. A look over their porch at their home on Joeffie Road showed the glow of fire at the foot of the mountain.
Higgins called 911 and watched as the fire crept toward their home up the mountain. "For the next 15-20 minutes or so the glow continued to get closer and closer to our house," Higgins says.
"With the weather, the east, southeast winds blew it straight up the mountain towards these houses on the top," Marshall County Forestry Office official Michael Williams says.
Forestry officials say they notified the residents in the homes while crews from four different departments worked to contain the blaze.
Grant, Swearingen, Hebron and Waterfront fire departments responded.
The fire spanned a good portion of that area on the mountain. "Estimate 20, 25 acres at this time, once the weather clears up we'll have our pilot come through and he can do a fly over and he can get an accurate, more accurate acreage," Williams says.
No one was evacuated and none of the houses were affected by the fire.
Higgins says he watched as the blaze made its way up the mountain until it was 100 feet from his home. "The flames that were coming up from that fire were incredible," Higgins says, "It reminded me of scenes you might have seen when you looked at forest fires in California."
Officials believe the fire was deliberate. "At this time it appears that it was an arson set," Williams says, "It appears somebody set the woods on fire at the bottom of the mountain."
It took several hours to contain the fire.
For Higgins and his wife, it was a situation that could have turned quickly. "I want to thank all four departments for coming here and working so very hard to get everything under control," Higgins says.
The fire is still under investigation.