JACKSON COUNTY, Ala. - The Jackson County EMA Director has died. In a Facebook post from Jackson County EMA, the organization confirmed Felix Jackson suffered a medical emergency Monday night and passed away around 10 p.m.
The EMA said Jackson was always working for the community.
"Felix felt personally responsible for the safety of the 53,000 residents of Jackson County, and worked tirelessly to do what was best for them."
Jackson County Sherrif's deputy Craig Holcomb has known Jackson for more than 20 years.
"He basically was the big brother you always want that I never had," said Holcomb.
Jackson's death has been tough for Holcomb and the community.
"I talked to him two or three times a day. Now, there's a void," Holcomb told WHNT News 19 through teary eyes.
"Once you met him, you had a friend," added Jackson County EMA Deputy Director Paul Smith. "If you looked up unselfish in the dictionary, you'd find Felix Jackson."
Smith also described Jackson as the best communicator he knows.
He said Jackson always made work fun. "Felix was a character. He never called you by your name, you had a nickname," said Smith.
"He was a light. He lit up any room he went in. He wanted everybody to be happy, to laugh,  carry on, have a good time. He was so caring," said Holcomb. "To be such a large fella in stature, he was a gentle giant. He had a heart made of gold. You don't find them like him anymore."
The Jackson County EMA asked for prayers.
North Alabama EMAs call for support
In a tweet, DeKalb County EMA asked everyone to send prayers for Jackson's family, friends, coworkers and fellow emergency managers.
It is with sad hearts we report the passing of one of our own. Jackson County EMA Director Felix Jackson passed away overnight. We ask everyone to keep Mr. Jackson's family, friends, fellow employees and emergency managers in your thoughts and prayers during this difficult time.

— DeKalb County AL EMA (@DeKalb_Co_EMA) October 22, 2019
Huntsville-Madison County EMA stated it's employees were grieving with Jackson County, calling Jackson "a wonderful person and Director of EMA."
HMC EMA also said, "He never met a stranger and would go out of his way to help someone in need."
Payne's Sandwich Shop and Soda Fountain sits across the street from the courthouse in Scottsboro.
Its owners honored Jackson's memory with a special Wednesday.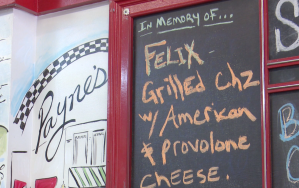 "Felix was just a great man. He would come in with a smile and a kind word for everybody. When we learned that he passed away, we couldn't think of anything better than to name a sandwich, his favorite sandwich after him and put it up for our special of the day," said Payne's Sandwich Shop and Soda Fountain manager Jessica Walton.
The Felix grilled cheese comes with American and provolone cheese, turkey, bacon, lettuce, tomato, and mayo.
A memorial service will be held in Jackson's honor at 11 a.m. Saturday, October 26, at the Stevenson Middle School auditorium.