This is an archived article and the information in the article may be outdated. Please look at the time stamp on the story to see when it was last updated.
JACKSON COUNTY, Ala. (WHNT) -- New details emerge in the events leading up to a car chase involving a stolen vehicle that ended with a woman reported missing over the weekend charged with attempted murder.
Ashley Grider Kennedy was booked into the Jackson County Jail early Monday morning. She was reported missing late Friday night, officials say.
Jackson County responders and others spent a good part of the weekend searching for her.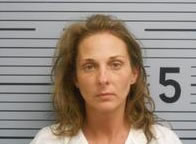 Finally, Kennedy showed up at a business in Stevenson.
Ronny Hill is the owner of Independent Service Center. "Backed up the suburban up here to the building to warm up, to put the grand-babies in and it was just sitting there running, and I turned around and looked, it was just driving down the driveway," Hill says.
Jackson County Deputies say Kennedy was driving Hill's car away from his business. Hill says he followed her down the road toward Hollywood where she was stopped. "I pulled partly in front of her and got out of the truck, and Hollywood Police Department pulled up behind her," Hill says.
Deputies say Kennedy took off again, beginning a chase that involved multiple agencies.
Miles down the road, Chief Deputy Rocky Harnen was set up with spike strips in Woodville. "As she approached that she appeared to see me standing on the side of the road and aimed her car toward me, and as I ran off the road with the spike strips, she swerved hard toward where I was," Chief Deputy Harnen says.
He says he hid behind his vehicle when he says Kennedy swerved, hit the spikes, and wrecked.
She was taken to Huntsville Hospital and then released. She is facing multiple charges including attempted murder.
Hill says he knows Kennedy's family and says he's glad she wasn't hurt significantly in the crash.
The Jackson County Sheriff's Office says Kennedy could potentially face more charges in Hollywood and in Stevenson.