This is an archived article and the information in the article may be outdated. Please look at the time stamp on the story to see when it was last updated.
GUNTERSVILLE, Ala. (WHNT) -- Absentee votes broke a tie at Tuesday's polls in Guntersville, but the race for City Council Place 1 remains undecided.
Samuel Stewart currently leads Charles Avery by three votes, but city clerk Betty Jones said there are as many as six uncounted provisional ballots.
The electronic ballot machines counted 62 votes for each candidate in the run-off election Tuesday, but five people voted in advance or by mail.
"With the absentee votes it's 63 to 66, so we have a 3-vote difference," Jones said.
"It was a tie on the machine vote, but the absentees made a difference."
Stewart is ahead, as he was in August's general election when he received 94 votes to Avery's 80, but 23 votes cast for a third candidate put Stewart at 47.7%.
Only two-thirds as many people voted in the run-off as in the general election.
Despite his three vote lead, Stewart can't seal his victory until an envelope is unsealed.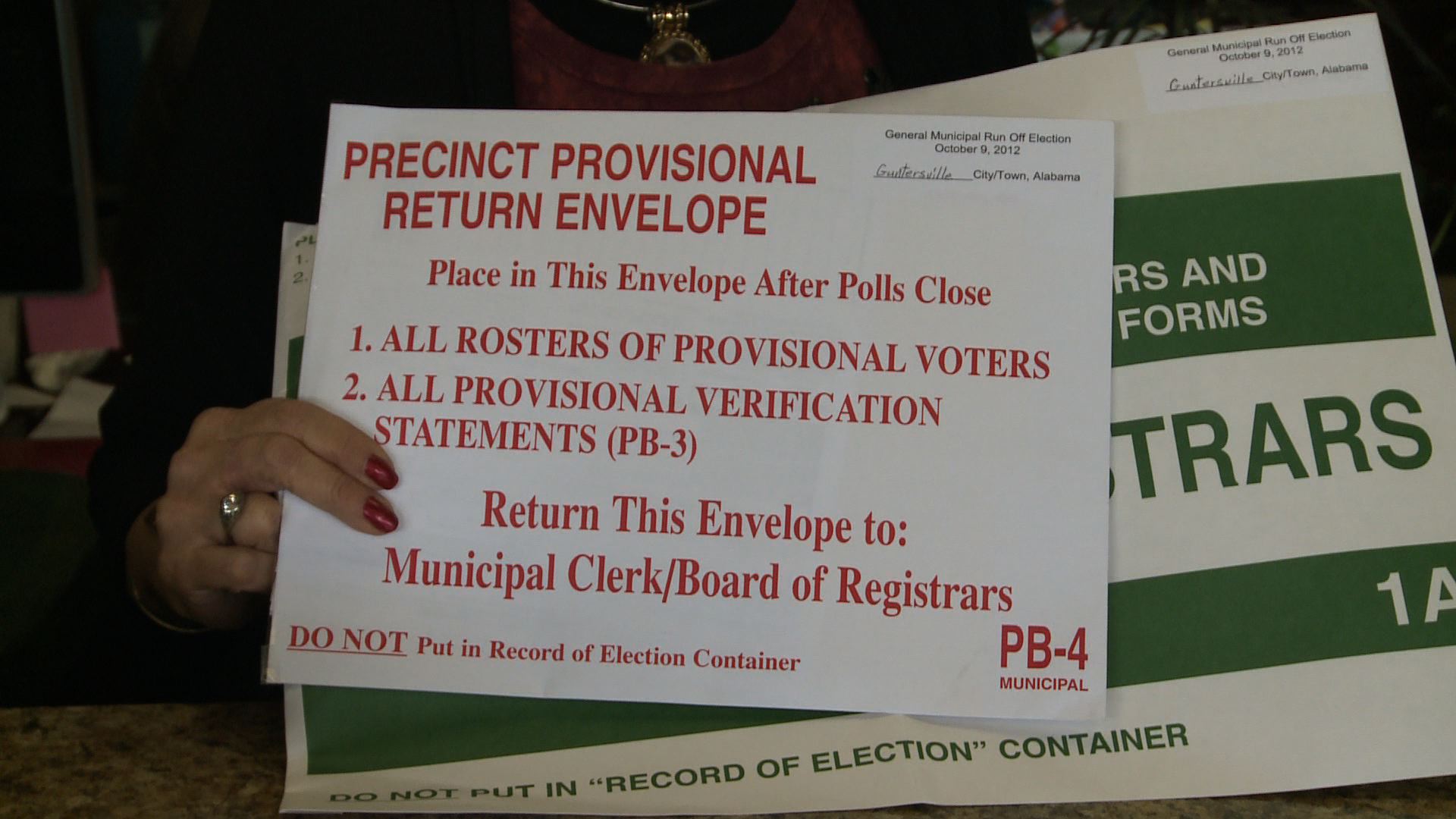 It has paperwork for six uncounted provisional ballots.
"If a voter showed up and did not have identification, if they were not on the voter's list and we couldn't determine if they were a valid voter or not, we still let them vote," Jones said.
The ballots were sealed and uncounted, and the voters provided contact information.
The Board of Registrars has one week to confirm the identities and addresses of those voters to determine which votes are valid, and then unseal and count those votes.
However, there are two scenarios which would result in a tie.
If one vote is tossed out, Avery could receive four to Stewart's one, forcing a tie at 67.
If three votes are ineligible, the remaining three could be for Avery, bringing both to 66.
Jones said she does not favor one candidate or another, but hopes there is a clear winner.
She spent Wednesday morning research the Code of Alabama 1975, Title 17, which includes all the state regulations regarding elections.
She said if it ends 66-66 or 66-67, it may very well be a toss up--of a quarter.
"I think there was one in other areas where they flipped a coin," Jones said.
"I don't know what they do, I'll just cross that bridge when we get there."
City officials hope to have the provisional ballots verified for Monday's council meeting, and the ballots will be publicly unsealed and counted by hand.