This is an archived article and the information in the article may be outdated. Please look at the time stamp on the story to see when it was last updated.
HUNTSVILLE, Ala. (WHNT) -- A Guntersville girls' soccer coach has been arrested and charged with sexual abuse and human trafficking, according to Huntsville Police.
David Jacobs Barrow was arrested Friday while coaching his girls varsity team at the State soccer semifinals in John Hunt Park.
Barrow faces three counts of sexual abuse 1st degree and one count of human trafficking 1st degree, according to jail records obtained by WHNT.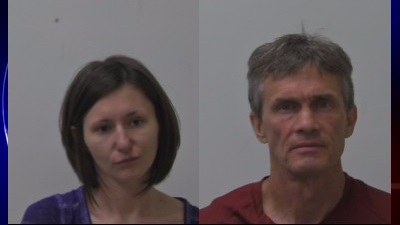 Madison County Assistant District Attorney Tim Gann said the victims are NOT soccer players on the Guntersville team Barrow is a volunteer coach for, but told reporter Matt Kroschel more charges could be filed related to this case.
Gann says the alleged victims are two 10-year-old female victims from the Huntsville area.
Also arrested in connection to this case is Kristian Griffin. She is charged with one count of Conspiracy to Commit Sexual Abuse of a Child Less than 12 Years of Age.
WHNT learned Barrow is a partial owner and manager of Mike's Merchandise on South Parkway in Huntsville. A worker inside the Huntsville store told WHNT crews Friday night they had no comment about the arrest other than to say, "it's horse crap."
Mike Jones, owner of the entire chain of Mike's Merchandise stores in the state called our newsroom to clarify Barrow's relation to the company. Jones says Barrow was the manager of the Huntsville store and partial owner of that operation.
"This is shocking to the entire organization," Jones said.
Jones also co-coaches soccer with Barrow. Jones says the soccer team has been meeting the players on the team and their families since news broke of the arrest.
"All we want is for the truth to come out," Jones told WHNT News 19.
By friday evening news of Barrow's arrest spread fast around Guntersville. Friends and neighbors tell WHNT they never suspected anything.
Neighbors say they never noticed anything unusual about Barrow's home or him.
Friends who have known him for years say the news is shocking.
Guntersville City Schools Superintendent Dale Edwards says Barrow had been volunteering at the high school for at least a decade. He says they will be conducting their own investigation and helping police in anyway they can.
Guntersville and Huntsville Police investigators conducted a search at Barrow's  home Friday evening. They say they were looking for electronics but couldn't elaborate.
Barrow's home is adjacent to Guntersville Middle School.
If you have any information related to this case, or others, please contact Huntsville Police at 256-722-7100.