This is an archived article and the information in the article may be outdated. Please look at the time stamp on the story to see when it was last updated.
JACKSON COUNTY, Ala. – Jackson County officials say they were forced to call back up from another county after a standoff lasted for several hours in Paint Rock.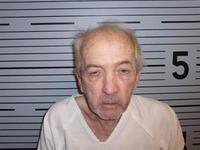 Deputies responded to a home on County Road 1 around 5:00 p.m. on Wednesday night after neighbors reported a man firing a weapon at houses and cars. When deputies arrived, they said they could hear shots being fired from inside the home and the man locked himself inside.
According to the Sheriff, deputies tried to talk the man out of the house but he would not respond and eventually, they contacted the Madison County Swat team to gas the house.
Authorities arrested Timothy Summers on 8 different charges, including assault, firing into an unoccupied vehicle, and possession of drug paraphernalia.
Sheriff Phillips says this isn't the first time deputies have confronted Summers, he says they've dealt with Summers many times and have taken away his guns before but they were forced to return them after Summers was evaluated and cleared.
Summers is in the Jackson County Jail.
Though the home is in bad shape, no one was hurt.