This is an archived article and the information in the article may be outdated. Please look at the time stamp on the story to see when it was last updated.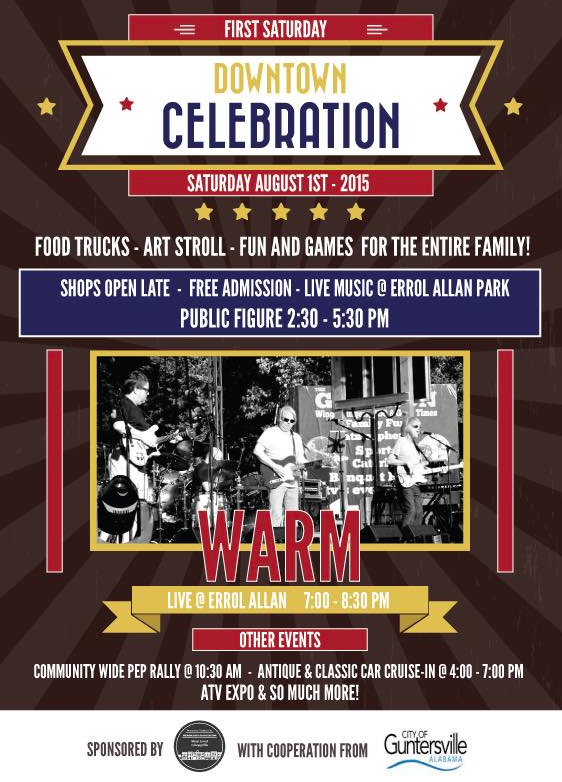 GUNTERSVILLE, Ala. (WHNT) — It's a string of events unique to Guntersville, and this Saturday will be the last one this summer – but that's not the end.
Since May on the first Saturday of every month, historic downtown Guntersville is full of people enjoying music, food, and the unique touches that make the area the way it is.
The events are coordinated by the Downtown Merchants Association.
Saturday, August 1st, is the last event this summer. "This is the first year and we're feeling very positive about it, but there are lots of places to grow," says Beth Wheeler-Dean. She is one of the coordinators for the events.
Growth is on the way. "What we intend to do is to have First Saturdays from March or April through August each year," explains Wheeler-Dean.
More and more people came from across the county and out-of-town to each First Saturday event this year. The event bringing in visitors is one of the goals behind the events.
The Downtown Merchants Association got money from the city for partial funding, and next year they hope to do that again. "We hope to grow this to where we are bringing in people from Chattanooga and Birmingham, from Huntsville, and all of the surrounding areas," said Wheeler-Dean.
There are multiple events on Saturday, August 1st. At 10:30 a.m. there will be a pep rally at Errol Allan Park, at the heart of downtown, to support Guntersville City Schools.
The First Saturday events will follow downtown. The event will feature food trucks, an art stroll, games and activities, an ATV expo and shopping at the local stores.
The antique and classic car cruise-in will be from 4-7 p.m. behind Citizens Bank.
There will be live entertainment at Errol Allan Park from 7-8:30 p.m.
The Arts and Entertainment District is also in effect.
All of the events are free.