This is an archived article and the information in the article may be outdated. Please look at the time stamp on the story to see when it was last updated.
GUNTERSVILLE, Ala. -- A church in Guntersville has a historic home that anyone could have for free, only if they would haul it off the property.  It's been a few years since we told you about that, and finally, someone took the church up on the offer.
A 1930s era house in Guntersville is beautiful: brick with white trim, surrounded by trees, overlooking Gunter Avenue.
The Guntersville First Baptist Church owns it. Families rented it for a while but the house needed some costly repairs. So the church came up with a proposal: if anybody wanted the house, they could have the house for free if they would haul it off the property.
That's not exactly the easiest feat in the world, but three years later, it's happening.  "A guy named Terry Langley from Huntsville came to us and said he wanted to do that," Pastor Joel Samuels said.
A company is going to move the five bedroom, multiple story home in three pieces to Monte Sano. Langley said he bought a lot with the intention to build a home, and when he heard about the church's offer, he took it. The goal is to move the house by the end of the month. Langley wants to keep the historic integrity of the home but give it some updates.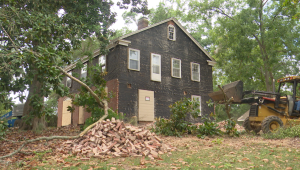 So what's next for the property? There was some confusion in the Guntersville community as to what the church was going to do with it. "People had thought that we're for sure going to build a parking lot there, and we've never, ever discussed that at all, so we don't know what we're going to do yet," Samuels said.
In the meantime though, brick by brick and through meticulous planning, the old house is moving on to a new chapter.