This is an archived article and the information in the article may be outdated. Please look at the time stamp on the story to see when it was last updated.
MENTONE, Ala. – A DeKalb County man has been indicted for murder in the beating death of his mother in Mentone in May 2015.
Tyler Ryan Blansit, 23, was indicted Feb. 2 by a DeKalb County grand jury in the killing of Sherry Blansit. Court records don't show a trial date, but he is set for a Feb. 21 arraignment.
DeKalb County Sheriff Jimmy Harris called the killing of Sherry Blansit, "one of the most brutal deaths I've ever seen." The indictment alleges Blansit killed his mother with a baseball bat .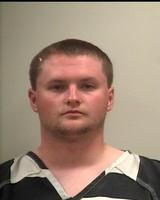 He was arrested May 29, 2015, the same day his mother's body was found.
DeKalb County law enforcement officials said Blansit admitted the killing and that he'd told them he and his mother had argued over his grades. Blansit had been a student at the University of Alabama-Birmingham.
Blansit had a preliminary hearing in August 2015 and a court found there was probable cause to send the case to a grand jury. But, the grand jury didn't review the case until its December 2016 term, records show.
The DeKalb County District Attorney's office asked a judge in February 2016 to order a mental evaluation for Blansit. The court later granted the motion, directing that Blansit should be examined by state doctors to determine if he understood the charges against him and was able to assist his lawyers for his defense.
The court also ordered the doctors to evaluate Blansit's mental state at the time of the offense. Under Alabama law a person citing an insanity defense has to show they had a mental disease or defect so severe they didn't understand right from wrong at the time the crime was committed.