This is an archived article and the information in the article may be outdated. Please look at the time stamp on the story to see when it was last updated.
ALBERTVILLE, Ala. -- A man in Albertville got a surprise from first responders and he summed it up in one word - incredible. Usually, people tell first responders thank you, and this time, it was the other way around.
Emergency response vehicles filled the parking lot at Solitude Baptist Church in Albertville. Kids age pre-school and younger milled around the trucks with tires bigger than they were, asking questions.
Zac Cannady puts on this event every year at his church, where his dad Joey Cannady is the pastor. "Just for fun. My background in public safety, I have all of the contacts," Zac said.
Background that could also be called a lifelong passion.
"Zac was born in 1986 with a birth defect called spina bifida. He's been in a wheelchair his entire life," said Joey Cannady, "When he was about seven he fell in love with emergency services type things, fire, police."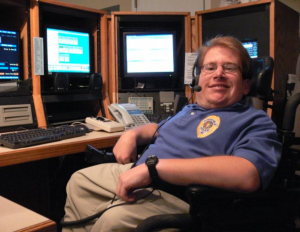 "I was a dispatcher for one year at Albertville PD," Zac said.
"His health has not been able to allow him to do that, but he loves it," his dad explained.
If he could, Zac would work as a first responder. "He would probably want to be an air medic. That's what I would guess he would be," Joey Cannady said.
"I've had my scanner since I was seven," Zac said, "It's never off."
To say he knows the first responders in his area is an understatement. He knows them well, and they know him.
"He'll be listening, listening to the scanners, he'll call us up and say 'Hey, you're fixing to get a flight', and sure enough, we're ready. We're out the door already sitting in the helicopter when they call. So that's saving lives," explained LifeSaver flight medic Don Wilson.
So that's why, as the kids waited for a helicopter to show up at the church to add to the fleet of emergency response vehicles, the other responders there waited too.
"We're officially coming up to show the helicopter for the kids, for Zac," Wilson said, "Unofficially, we're going to do an appreciation day for Zac."
Once the kids got a chance to ask every question on their minds, they went inside, and the first responders and Cannady's family gathered around. "There's another part to this Zac," Wilson said to him, "All the EMS community would like to take this opportunity to thank you."
Wilson gave Cannady a glass plaque for his years of support, and another LifeSaver crew member gave him a patch with a stipulation - that he had to go up in the helicopter for a quick ride.
Cannady immediately replied with a 'yes'.
"He's been backing EMS since he was seven years old, he's just been interested in it. So we would like to show him appreciation for what he does," Wilson said.
A small way to say thanks for a passion that turned into years of support for a job that isn't easy.