This is an archived article and the information in the article may be outdated. Please look at the time stamp on the story to see when it was last updated.
(WHNT) - A busy Tuesday morning for firefighters in two counties.  Crews responded to house fires in Lawrence and Marshall Counties, as well as Albertville.
Albertville House Fire
The most recent house fire destroyed a home this morning on Pleasant Grove Road in Albertville. We're told the fire started in the kitchen.
The people inside the home were able to escape.
Marshall County Mobile Home Fire
Firefighters also responded to a fire at a mobile home in Marshall County.  The fire started around 4:00 a.m. on the front porch of a home in the 1200 block of Ball Park Road.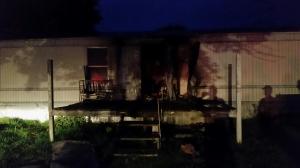 The flames kept the three people inside from getting out through the front door. They kicked out the back door to escape the fire.  Three pets were also inside.  So far, two of the animals have been found.
The homeowner believes someone may have started the fire because many items on the porch have been moved.
Lawrence County House Fire
The first fire happened around 2:30 a.m. at a home on County Road 372 in Lawrence County.  We're told the homeowner woke up to the smell of smoke.  He tried to open the bedroom but the door knob was too hot.  The homeowner then jumped out of the window and called firefighters.
The fire destroyed the home.  The homeowner is OK.  No one suffered any significant injuries from any of these fires.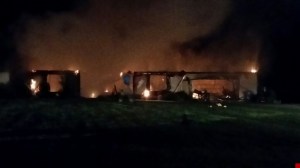 Firefighters treated most people for smoke inhalation.
All three fires are under investigation.