This is an archived article and the information in the article may be outdated. Please look at the time stamp on the story to see when it was last updated.
A DeKalb County driver who investigators say struck and killed a cyclist last summer now faces criminal charges. A grand jury indicted Craig Lee Chandler for criminally negligent homicide, a misdemeanor.
If convicted, Chandler could face up to a year in jail and a $6,000 fine.
Rainsville Police said Chandler collided with 22-year-old Christina Clarke Genco on Highway 35 North between Fort Payne and Rainsville.
Genco was a Massachusetts cyclist riding with Bike and Build, a group of volunteers who raise money for Habitat for Humanity and build houses as they ride cross-country.
There were about three-dozen young adults on the team, which was pedaling from Georgia to Scottsboro on June 6, 2011, to build a house in Jackson County.
The recent graduate of Boston University died on impact.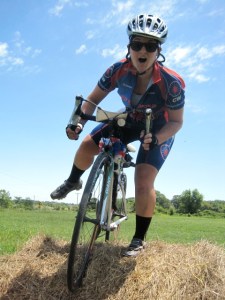 Marshall County district attorney Steve Marshall will prosecute the case, because Chandler is a former investigator for the DeKalb County District Attorney's Office.
"This is a tragic situation," Marshall said.
"The circumstances in which our victim was in the county, obviously here to do help.  The fact that she was killed as part of this is clearly something that we took seriously."
The grand jury considered several possible charges, including manslaughter and vehicular homicide, before reaching the criminally negligent homicide indictment.
"To prove that case, you have to prove that a person acted with gross negligence," Marshall said.
"This is not an intentional murder of any type.  It's an unintentional crime, but because of gross negligence, there was approximate cause of an individual's death."
Rainsville Police said Chandler told investigators he did not see the cyclist.
Marshall said Chandler did not allow enough space, but was not impaired.
"No allegations of intoxication.  Nothing relating to speed.  This is simply a violation of the rules of the road."
Cyclist and bicycle shop owner Darren Haramija said many Alabama drivers are unaware or do not acknowledge that cyclists are allowed to be on the same roads.
However, he said the state legislature could do more to protect cyclists.
"Alabama still remains one of the states that doesn't have a three foot passing law on the books. Hopefully the legislators will take note and give this an opportunity for them to make some needed improvements, helping to take care of cyclists," Haramija said.
Every state that borders Alabama has a three feet law.
Alabama has a law which applies to passing all vehicles, including bicycles, which states "The driver of a vehicle overtaking another vehicle proceeding in the same direction shall pass to the left thereof at a safe distance and shall not again drive to the right side of the roadway until safely clear of the overtaken vehicle."
(Code of Alabama Section 32-5A-82)
Marshall said that did not happen in this case.
"The defendant failed to exercise the appropriate rules of the road in regard to passing the individual that he's coming up on. That will be the nature of proof and that will be the allegations that a jury will have to consider."
Prosecutors plan to focus on the rights of cyclists on the road as well as the responsibilities of motorists.
"This case not only is important for the victim's family, but also to make clear what the responsibilities are of a driver on the road in sharing the road with a bicyclist," Marshall said.
Haramija worked to get several Share the Road signs posted around Guntersville, and said if drivers become more aware, fewer accidents will happen.
"Our most heartfelt condolences go out to the family in Massachusetts.  Hopefully this sends a message that yes, we do care, and this is a tragedy that we share with them," he said.
Genco's family started the Christina Clarke Genco Foundation in her memory, and one of its goals is to improve bike safety and awareness.
They will have a Memorial Ride for her on Mother's Day.