This is an archived article and the information in the article may be outdated. Please look at the time stamp on the story to see when it was last updated.
SCOTTSBORO, Ala - Jackson County is working to prevent future floods on County Road 220.  Officials have decided to work on the roadway because of its history with over topping.
"Although it's not usually able to be worked due to the fact that it stays wet most of the time. These particularly dry conditions have allowed us to get in there and perform some maintenance activities," says Jonathan Campbell, Jackson County's engineer.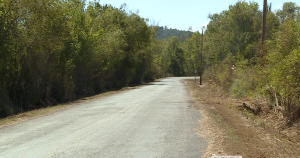 Jackson County took advantage of the dry weather and began construction a couple of weeks ago.  Campbell said they're taking a new approach to stop the water from building up and flooding properties.
"They are ditching mostly, removing some vegetation along those ditch lines, and then some cross trained maintenance is being performed."
By adding a little more room on the shoulders of the road, they are providing a space for excess water to flow.
"Even though a lot of factors are there about the flow being able to move downstream, we're hopeful that this will provide some safer traveling conditions by lessening the chance of water over topping the roadway," says Campbell.
The construction should be complete with a couple of days.