This is an archived article and the information in the article may be outdated. Please look at the time stamp on the story to see when it was last updated.
ALBERTVILLE, Ala. -- A Marshall County mom is working to provide educational and memorable experiences to families who have a child on the Autism spectrum.
Earlier this year we brought you Spencer's story. The four-year-old was diagnosed with an Autism spectrum disorder when he was about two years old. This year his mom, Patricia Moore, put together sensory-friendly play dates in Marshall County for any family that has a child with Autism or with sensory issues.
The events bring families together for an experience they can all enjoy and remember. When we talked with her last, Moore was hoping to continue the trend, and expand it. This month, that's exactly what Spencer's mom is working to do. "This month we are really excited. We have a company, Milestones Behavior, coming up to do ABA training for the parents," Moore explains.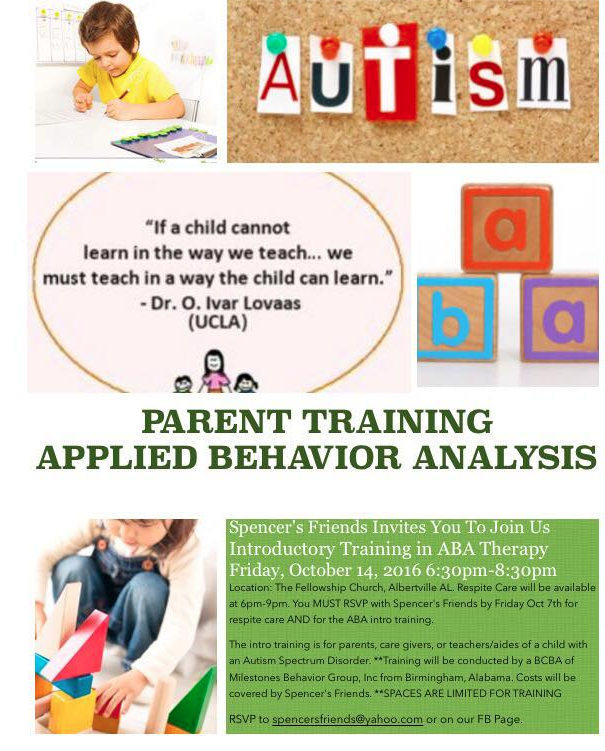 Anyone who has contact with a child who has an Autism spectrum disorder at any age level is welcome to attend the free introductory training, which is set for Friday, October 14 from 6:30-8:30 at The Fellowship Church in Albertville. Respite Care will be available during the event. You're asked to RSVP by October 7. You can do that by emailing spencersfriends@yahoo.com.
"ABA training is Applied Behavior Analysis, which is the gold standard for autism treatment," Moore explains, "This meeting is actually a full, two-hour introduction training. [Attendees] will actually leave with knowledge on how to start changing their children's behavior immediately."
The goal is to have enough sessions so parents can become registered and expand the opportunities to other families.
A sensory-friendly play date is also planned for this month. "October 24, the Sand Mountain Corn Maze has worked with me and they are wonderful. We are closing it to the public so it will only be our families," Moore says, "Any child with special needs is welcome to attend this." The event will be at a low-cost, if any. Families are asked to RSVP by October 17 at spencersfriends@yahoo.com. The event will run from 4 - 6.
These opportunities for families like Moore's are an idea that started with Spencer, that his mom turned into a reality. "I'm doing it for Spencer, and for all of these other families who came before Spencer, who are in this position now and who will come after," Moore says.
You can learn more about these events here.