This is an archived article and the information in the article may be outdated. Please look at the time stamp on the story to see when it was last updated.
(WHNT) - Local children drew these pictures of tornadoes and submitted them to WHNT News 19 for our daily Sketch The Sky feature.
Since April 27, 2011, we've noticed some of the pictures take a different tone.  We spoke with one boy who shared his memories of that terrible day through art.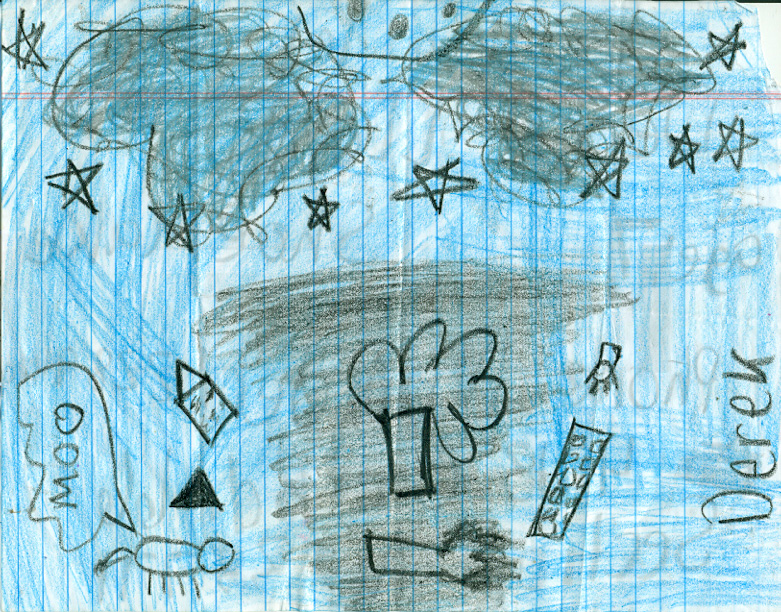 Derek Shoemake is now 9 years old.  He lives in Section, and was 7 when the tornado came through.
"The power came back off for like a minute, then flashed back on... that's what happened on April 27th," he said.
Derek's father knew the storm was coming, so he took the van a couple of miles into town to get some gas.  He thought he had 45 minutes, but as he was coming home, he saw the tornado behind him, and when the road was blocked, he left the van and ran home. 
"Trying to get away from the tornado... but he couldn't cause the tornado was right there and he was trying to get to my house all crumbled up and we were in the hallway with the bed cushions there and we were like this holding our face down -- our face in the ground and uh... all the sudden we heard the door slam and my Dad breathing hard," Derek said.
Derek's father made it home, but the distance he ran and the pressure from the storm caused his lungs to collapse.
Since April 27, 2011 we've noticed an increase in the number of pictures that showcase severe weather.  We took the photos to Dr. Roger Rinn, a child psychiatrist in Huntsville.
"It's pretty traumatic.  It is, well, they're scared," said Rinn.  "Art is a way for kids to express themselves.  It's a great way, I think it shows the colors, a lot of action, there is an enormous amount of action here.  When a tornado hits, you may not be moving a lot but you see a lot of things happening, and I suspect that's what these pictures show - a lot of confusion."
Dr. Rinn says kids can get Post Traumatic Stress Disorder just like adults.  The key is talking through it more than about it.
"Any child who's been through one of these and survived has a new sense of self-efficiency, particularly if the parents say 'You did real good, you did exactly what you were supposed to do'," said Rinn.
We asked Derek Shoemake what he thinks now when the power goes off and there is lightning or thunder.
"I think it's gonna be okay, and it's like nothing to worry about cause I say to myself I've been in this before - I keep on saying that," said Derek.  "I say that I've been in this before, I've been in this before, stay calm, that's what I say and it just makes me not scared."