This is an archived article and the information in the article may be outdated. Please look at the time stamp on the story to see when it was last updated.
ALBERTVILLE, Ala. (WHNT)- At least three people were hurt when a car rammed through the front of a Mexican restaurant in Albertville on Tuesday morning.
It happened about 11 a.m.  In a strange turn of events, a car was backing out of a parking space and was hit by another car driving by on Main Street.  One car ended up inside El Sol King Pollo restaurant.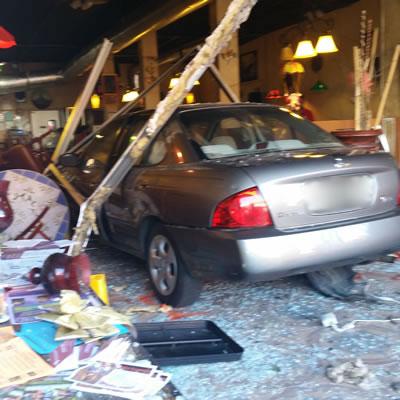 A server who was cleaning the windows was struck by the car that went through the front of the restaurant.  We understand the server was flown to Birmingham for medical treatment.
At least two others were taken to the hospital as well.
The restaurant will be closed for the near future. El Sol King Pollo owner Jose Contreras says he hopes they will reopen within a week.