This is an archived article and the information in the article may be outdated. Please look at the time stamp on the story to see when it was last updated.
DEKALB COUNTY, Ala. (WHNT) - "Bad things that happen in your life don't have to define who you will be. You can make a choice to be a winner in life."
When Bryson Richey spoke those words to his classmates in May during his 6th grade graduation from Plainview, he had no idea how important it would be to take his own advice in just two short months.
The DeKalb County teen is the definition of an all-American boy. Active as an intense athlete, Richey is not only a basketballer but competed on the Sand Mountain Outlaws baseball team which won the World Series last year.  He's also on a Rainsville football team that won the Super Bowl for its league, and hoped to begin playing full contact pigskin for the Plainview High School Bears this fall.
But one final hoorah with three best buddies on August 4, just two days before school started, changed Bryson's life forever.
Bryson while in the hospital following surgery (PHOTO: Danielle Richey)

Hundreds in the community are now donning Bryson Strong bracelets (PHOTO: Danielle Richey)

Bryson while in the hospital following surgery (PHOTO: Danielle Richey)

Bryson and a a buddy getting ready for dove season (PHOTO: Danielle Richey)

Bryson takes the field with the Plainview Bears (PHOTO: Danielle Richey)

Bryson pictured with classmates (PHOTO: Danielle Richey)

Bryson and Alabama Head Football Coach Nick Saban (PHOTO: Danielle Richey)

Bryson showing of Saban's championship bling (PHOTO: Danielle Richey)

Bryson and Alabama Quarterback Jake Coker (PHOTO: Danielle Richey)

Bryson in the Alabama locker room (PHOTO: Danielle Richey)

Naval Academy members support Bryson (PHOTO: Danielle Richey)

Bryson with a gift basket sent from the Birmingham Lions travel baseball team (PHOTO: Danielle Richey)

Bryson playing for World Series winning Sand Mountain Outlaws team (PHOTO: Danielle Richey)

Bryson has some fun posing with WHNT News 19 reporter David Wood's microphone (PHOTO: Danielle Richey)

Bryson and Outlaw teammates after their series win (PHOTO: Danielle Richey)

The Bryson Strong 5K Run takes place Sunday, Nov. 8 at 2:00 p.m. at the Rainsville Civic Center (PHOTO: Danielle Richey)
The boys had planned a spend-the-night party at Bryson's and decided to do some ATV riding before calling it a night. Bryson was driving the family's Polaris Ranger when he took a curve too fast, flipping the vehicle.
The weight of the ATV crushed Bryson's left leg, splitting his calf and leaving bone exposed. In that moment of terror, friend Jacob Henderson fashioned a tourniquet to try to stop the bleeding while classmates Jathan Underwood and Ethan Hope ran for help.
Bryson was flown to Huntsville Hospital where he underwent emergency surgery to repair multiple fractures as trauma doctors tried to clean the wound as best they could. That was Tuesday night -- by Thursday afternoon, Bryson's mom Danielle noticed his foot was cold to the touch, and was immediately concerned.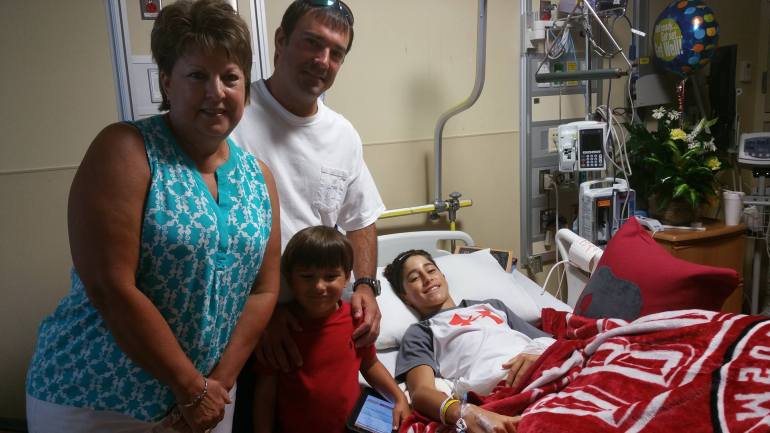 "It's been a long road," she said of the ordeal.
Doctors tending to Bryson ran additional tests and determined the athlete had lost blood flow to the injured leg below the knee. Even when the family got the devastating news that amputation was a necessity, Danielle Richey says Bryson's first question was 'when,' not 'why me?'.
"Of course all that runs through your head, that's it's going to be so devastating for him. He asked me a couple questions and the first one was, he said 'am I going to have to stay here tonight,' and I said, 'yes.' And then he said, 'am I going to have to have surgery tonight?' and I said, 'yes.' And then he said, 'am I going to be able to play football?' and I said, 'not this year.' And that's when he started to cry. But he's very strong, he only cried for a couple minutes and he was kind of over it. And he's been so strong through all of this -- very few times has he cried and he never asked 'why me?' It's just amazing how strong he's been. I'm not really sure there's many adults who could be that strong," Mom said of her young son.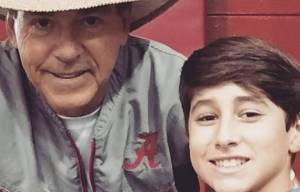 Some of that strength has undoubtedly come from all the support the family has received. Danielle says there were probably more than 50 visitors at the hospital the night after Bryson's surgery. The Birmingham Lions travel baseball team sent a gift of encouragement and even rival members of the 7th grade Fyffe High School football program sent Bryson well wishes and a gift basket.
Bryson has also received calls from some of his sports heroes and recently got the chance to meet coach Nick Saban, attend a practice and hang out with the Alabama Crimson Tide team in the locker room. Players like Derrick Henry and ArDarius Stewart donned 'Bryson Strong' bracelets.
Bryson's schoolmates began selling rubber bracelets which read, 'Bryson Strong' to benefit the family and his mom says even some of the females had a fun idea to start a fund, soliciting $10 for a chance to kiss Bryson.  We asked the campus heartbreaker about all the attention: "Tell me about these girls, Bryson," I grinned. "What girls?" Bryson smirked, cutting eyes at his mom.
Bryson is able to joke despite the intense emotional and physical trauma. Over the past months he has undergone more than 30 hyperbaric chamber sessions and continues to visit the wound care center three times a week for wound dressing.
Bryson continues to battle the depression associated with such a drastic change in lifestyle and mobility, but says he remains overwhelmingly thankful.
"That I have everybody that supports me, loves me, cares about me; and I'm just happy to have those kind of people," says Bryson.
Danielle says she's thankful, too. She says seeing so many people show love to her son has blown her away. She says that love, positive thinking and a strong foundation of faith has helped the family make it through each day.
"We know that for some reason this is God's plan for Bryson's life. And we may not like it but we have to accept that he has a purpose and a plan for him and maybe it's something bigger than he ever could have achieved with two legs. We want him to live life to the fullest. You know, you only get one chance to be a 13-year-old kid playing sports throughout your school career and if that's something his heart continues to desire to the degree it does now, then we will do anything in our power to get him what he needs to make that possible."
Time after time, the Richeys were referred to Fourroux Prosthetics in Huntsville as their best bet to make Bryson's dream of competing again a reality. The family met the team at Fourroux about not only fitting Bryson with an 'everyday' prosthesis so he can walk again, but a sports version that can withstand the rigors of competition.
"I really want to be able to heal everything up and make sure that everything's okay and then from there on, take it to where I can walk; be able to run, play -- and just kind of know that I'm back to myself."
As you may imagine the family's medical expenses are mounting and they face even more financial challenges if they intend to outfit their son with a 'new leg.'
Friends and family organized the Bryson Strong 5K Fitness Walk & Fun Run with all proceeds supporting the Bryson Richey Fund.
It was held Sunday, Nov. 8 at 2 p.m. at the Rainsville Civic Center.
UPDATE: The event raised $37,000 to help the Richey family - that's outstanding!