This is an archived article and the information in the article may be outdated. Please look at the time stamp on the story to see when it was last updated.
SCOTTSBORO, Ala. (WHNT) — Police are treating a shooting that killed one teenager and injured another as an attempted murder-suicide.
"On the surface it appears that way," Chief Ralph Dawe said.
"At this point in time we are trying to figure out one, why, and two, who did what?
"We're still in the process of that."
Scottsboro Police said 17-year-old Tessa Groves, of Woodville, died from a gunshot wound Tuesday evening at a home on Quincy Street.
Her boyfriend, Jonathan Nicholson, lived at the house with his father.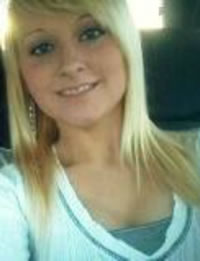 Officers responded to a call at 9:09 p.m. about a shooting at the home, and found the 19-year-old Nicholson in the driveway, bleeding heavily from a gunshot wound to his face.
"He was given medical attention and then transferred to Huntsville Hospital for medical treatment," Dawe said.
"Upon closer inspection of the home in our investigation we found the deceased."
She was inside the home, dead from a gunshot.
Groves was a student at Woodville High School, and also took cosmetology classes as part of a trade and technical skills program.
She was one of four students on the school system's Instructional Leadership Team.
Friends tell WHNT News 19 there will be a candlelight vigil in Groves' memory Saturday at 7 p.m. at Woodville High School.
Dawe said police sifted through evidence but found no indication of an outside shooter.
"Our objective now is we are working for her, to find out what happened," he said.
Investigators hope Nicholson can provide answers to their questions, since he survived.
"We've been in contact with the hospital officials and we're receiving information that he's unable to talk," Dawe said.
"However, we plan to make a visit sometime this afternoon to examine his wounds."
The police chief said his investigators are familiar with Nicholson from prior arrests and have responded to several calls to the house before.
"We've dealt with this household, not just him, in the past," Chief Dawe said.
Police confirmed they arrested Jonathan Nicholson in May for third degree assault.
Mack Baker lives across the street from the Nicholsons and said he was shocked and saddened to hear about what happened.
"It's a sad thing to know that these young folks had their whole life ahead of them, and I'm sad for the victim," Baker said.
He heard what sounded like a single gunshot during the evening, and saw flashing police lights through his kitchen windows about an hour later.
"I actually thought somebody was pulled over until I came back into my living room, and then I seen all the other lights, and then all the other emergency equipment and everything; vehicles came and just bombarded the street," he said.
Baker saw Jonathan Nicholson in the driveway, and said the teen's face looked beat up.
He said he didn't know them well, but Nicholson often had a bunch of friends over, and Baker regularly saw Nicholson and Groves out on the front porch or in the driveway.
"We seen her quite a bit as we were coming in and out, as they'd be outside and [it] seemed like everything was good with them, as far as I know," Baker said.
"I had never seen them argue outside or anything like that.
"I knew them when I seen them and it's just sad to know that their life was cut so short for whatever reason," he said.