This is an archived article and the information in the article may be outdated. Please look at the time stamp on the story to see when it was last updated.
FYFFE, Ala. (WHNT) -- DeKalb County deputies say two men involved in a deadly shooting are charged in connection with the crime.
Sheriff Jimmy Harris says one man is charged for murder and a second man is charged for hindering prosecution.
Sheriff  Harris says the shooting happened late Saturday afternoon at a home at 2223 County Road 578. Investigators say two men were arguing outside the home. "No witnesses, but one of them's brother was in the house and heard something that sounded like shots. When he came out his brother was laying on the driveway," Sheriff Harris says.
He says the man who died is identified as  Michael Arnold Johnson, 36 of Fyffe. Johnson's body was taken to Alabama Department of Forensic Science in Huntsville for an autopsy.
Deputies say the supposed shooter left the area and law enforcement agencies in the area were notified to be on the lookout.
James Edward Wooten, 36, of Powell was taken into custody just before midnight  Saturday evening by Investigators, near Powell. Wooten is charged for hindering prosecution.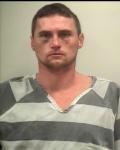 Sheriff Harris says the supposed shooter is identified is 20-year-old Ben Christopher McClure.  Deputies found him  near Antioch, close to the Jackson-DeKalb County line on County Road 538.
Deputies says McClure was still in possession of an assault rifle used in the murder. Sheriff Harris says MCClure made threats he would not go to jail without a fight.
He says the Special Response Team secured the area around the suspect's home and watched his movements until dawn Sunday morning.
 Residents were  evacuated from their homes as a precaution  overnight and they were able to return Sunday morning.  Eventually, officials say officers were able to get four family members out of the home, and convinced McClure to come out unarmed.
Sheriff Harris says a search warrant turned up what appeared to be the murder weapon, which was loaded with a 30 round magazine and was found near McClure's sleeping area.
Investigators say other evidence was found in the home, as well as the vehicle used in the homicide.
McClure has been charged with murder and is being held in the DeKalb County Detention Center awaiting bond. 
Sheriff Harris released a statement regarding this case Sunday afternoon:
          "This was one of the most violent murders I've seen in over 25 years. It was hard to see the family as we told them their loved one was gone. The suspects fled the scene and we had people in 3 counties helping us look for them. Having an AK-47 style rifle and hundreds of rounds of ammo loose in the hands of this shooter made every officer more safety conscious when making these arrests. Both suspects were taken with little resistance because we had properly trained teams working this case. Our SRT did an outstanding job. I watched them all night as they managed to get within yards of the suspect and eventually talk him out. It was the ending we all hoped for and worked great. I'm sorry we had to move some neighbors but we could not take any chances due to the rifle and ammo the suspect had in his possession. I want to thank Jackson County Sheriff Chuck Phillips for all his help last night and the resources he provided during the manhunt. We were lucky to have DeKalb Ambulance Service provide an ambulance during the stand-off. We had help from Fyffe, Rainsville Powell, Geraldine, Sylvania, and Section Police Departments also. I love the way we are all able to work together, especially during very dangerous events like this. Our thoughts and prayers are with the family of this victim and I look forward to seeing them get a measure of justice when this case is prosecuted by District Attorney Mike O'Dell and his staff. This has been a long and deadly week."