This is an archived article and the information in the article may be outdated. Please look at the time stamp on the story to see when it was last updated.
ARAB, Ala. -- Arab High School has a new stadium, but the Class of 2018 won't be walking there because majority ruled - for a special reason.
The new stadium is across town the from the high school and the old stadium, and the seniors made a decision about it.  "We had a class poll in Google Classroom," explained senior Russell Brazelton.  "Basically everyone just voted on the new field or the old field," added senior Hailey Kensing.
The majority ruled: they would forgo the new stadium and graduate in one with memories. "I played football on that field for not just four years of high school but also two years of junior high, and little league we played on that field as well," Brazelton said.
"I've been in band for seven years, since sixth grade," Kensing said, "We have a lot of memories on that field, like first game jitters, halftime performances, and stuff."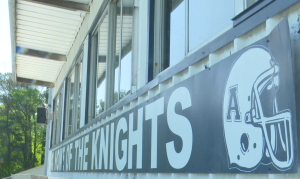 For a lot of the seniors who grew up in Arab, it's a lifetime of memories. "We don't have any memories on the new field," Kensing said.
The next graduating class with have that opportunity. The Knights will kick off the first game of the season in the Fall there.
As for the Class of 2018, they'll be walking at graduation under memories of Friday night lights, fight songs, and growing up.