This is an archived article and the information in the article may be outdated. Please look at the time stamp on the story to see when it was last updated.
DOUGLAS, Ala. — The dog someone burned in the Douglas area in late October is recovering at a local vet's office, and Friends of Marshall County Animals is paying for all of her care.
Sky has come a long way from the dog we met a few weeks ago. Someone burned her badly by her Zion Hill Road home in the Douglas area.  Sky's owner said her neighbor saw the dog running, on fire. Sky ran off that night. Her family couldn't find her, but by the next day, she was back.
Her owner, who doesn't want to be identified, got her to the vet right off the bat. But, Sky's long-term care is going to cost a lot.
A small group called Friends of Marshall County Animals stepped in to fund Sky's care. She's staying around the clock at a local vet's office.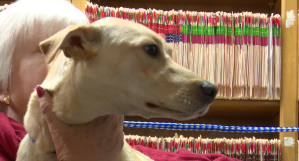 "She will be here for the duration, as long as it takes to get her well, which may be around Christmas time," Mary Harris of Friends of Marshall County Animals said.
Sky looks a lot better than when we first saw her, but she still has a long road to go.
"They're probably going to require skin grafts, but the other burns are healing nicely," Harris said. "We've been trying to get donations every day so her medical bills can be covered. She's a happy, friendly girl and she's getting friendlier and happier every day because she's not in so much pain now."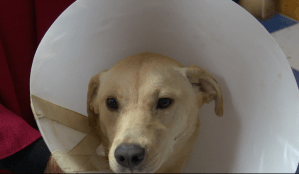 As for the person who burned her, Douglas police officers ask for any information someone might have even if it seems small.
"We're asking from the public, any help that they can give us to bring these people to justice, because that's awful to do to an animal," Chief Eric Speight said, "It's terrible."
All tips can be anonymous. You can reach the Douglas Police Department by calling (256) 593-9531. You can also send a message on Facebook.
"The important thing at this point is to hopefully make sure Sky gets well. When she gets well, she's going home to be a house dog," Harris said.
You can make a donation to Sky's care through PayPal to friendsofmarshallcountyanimals@gmail.com, or by check to Friends of Marshall County Animals, P.O. Box 784, Albertville, AL 35950. You can also donate by clicking the 'donate' button on the Friends of Marshall County Animals Facebook page. You can also call the vet's office at 256-878-3131.
WARNING: The images in this gallery might be upsetting to some readers.
Concerned citizens got together to offer a reward totaling $5,000 for information leading to the identification, arrest, and conviction of the person or persons responsible for burning Sky.