This is an archived article and the information in the article may be outdated. Please look at the time stamp on the story to see when it was last updated.
HUNTSVILLE, Ala. (WHNT)- Nexus Energy Center is an organization in Huntsville that serves the entire state of Alabama. Employees work to create a smart energy future for Alabama through education, conservation, efficiency and renewable generation. They also extend our expertise to those most in need with efficiency projects.
This year, the mission goes beyond the state of Alabama as it spreads national and international through the 2016 Global Entrepreneurial Summit. This Summit brings 45 people from 42 European countries to the United States. On their visit, they spend two weeks with a some of the most promising non-profit organizations across the Unites States. Nexus Energy Center here in Huntsville met the required criteria and was selected as one of the organizations for the Summit.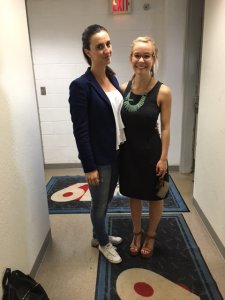 Loanna Fotopoulou is a professional from Greece participating in the 2016 Global Entrepreneurial Summit. She has been assigned to Nexus Energy for two weeks. Fotopoulou says that she is thrilled about all that she has learned from Nexus, "they actually talk about the conservation of energy because energy is limited and the environment is really not in a good place right now so what these people do is to put ethics back to energy. How to use it less, how to utilize it better, how to make people actually pay less utilities. It is their money and they should use it more efficient and in a better way while protecting the environment."
Fotopoulou explains that Greece has a similar climate to the Huntsville area. She hopes that she can take all that she has learned through Nexus back to her country and see the same impact there as she has seen here. She also notes that the lessons she has learned here in Huntsville go beyond energy efficiency. "I really enjoyed that people here actually smile to each other whatever happens I know the world is not perfect there are many problems. We have many problems but when you actually walking the street and you actually go and search for the eye contact to say good morning to a person that you don't know. This is what I am taking the spirit of the south the spirit of the Alabama people and Huntsville people it will stay with me," Fotopoulou says.
Her next stop in the United States is California where the Obama Administration will host the actual Summit. All the international participates will put together a presentation of what they learned; the outcome of their trip, how they were inspired, and how they plan to use what they learned to impact their own country.