This is an archived article and the information in the article may be outdated. Please look at the time stamp on the story to see when it was last updated.
Eyebrows are a hot topic of conversation. They're all the rage with celebrities, including Kathy Griffin, Zendaya, Bella Thorne,  and Angelina Jolie. But what about your own?
Now, there's a new way to make eyebrows pop.  It's called 'microblading' and beauty experts say this makes it easier than dressing up your eyebrows with makeup every day.  Just what does it involve, though?  Is it painful?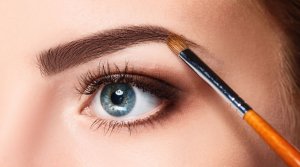 "Microblading is a semi-permanent makeup that mimics actual growing hair on your eyebrows," said Rickina Velte, an Esthetician.
Here's how it works. The perfect eyebrow shape for your face is mapped out. After color matching ink to your brow hairs, a blade is used to feather hair strokes into the skin.
"I have to make sure I create those strokes to guide along that pattern or else you'll have criss-cross looks and it looks obvious, like you've done something to do them," said Velte.
That's the allure of eyebrow microblading.
"Sometimes I do it and I'm like 'oh my gosh, I can't even tell where the hair is and where the strokes are," said Velte.
The scratching sound from the blade may sound scary, but after a layer of numbing cream, clients say it doesn't hurt.
"It's a very, very light tingling sensation. Nothing painful, but you can tell something has happened," said Jessica Cunningham. She raves about her first visit, and has returned for a touch-up.
"I have very sensitive skin and I didn't have any problems," said Cunningham. "So I was afraid it might burn or itch, but nothing. For me the aftermath was less than waxing."
"I'm going to love it. I know I'm going to love it. One, I can wake up in the morning and not have to do them and not feel self-conscious about it. It's a huge thing, not very many people have seen me without my eyebrows. They've been a huge insecurity of mine.'
"The biggest thing I see is just confidence," said Velte. "It gives people confidence when they didn't have any. And it gives people the feeling of, wow this is really me!"
Microblading lasts between one to three years.
Several local beauty clinics offer microblading. Just search 'microblading' and your city to find one that offers this.