This is an archived article and the information in the article may be outdated. Please look at the time stamp on the story to see when it was last updated.
Project Orb Media, a nonprofit global journalism organization, tasked State University of New York to analyze bottled water. They tested popular brands like Evian, Dasani and Nestle Pure Life. Scientists found an average of more than 10 plastic particles per one-liter of bottled water.
Researchers tested more than 250 bottles from 11 brands purchased in 19 locations in nine countries reveal contamination with plastic including polypropylene, nylon, and polyethylene terephthalate (PET).
Here are the brands included in the study:
Aqua (Danone)
Aquafina (PepsiCo)
Bisleri (Bisleri International)
Dasani (Coca-Cola)
Epura (PepsiCo)
Evian (Danone)
Gerolsteiner (Gerolsteiner Brunnen)
Minalba (Grupo Edson Queiroz)
Nestlé Pure Life (Nestlé)
San Pellegrino (Nestlé)
Wahaha (Hangzhou Wahaha Group)
According to Orb Media, two leading brands confirmed their products contained the microplastic, but say the study significantly overstates the amount.
Researchers say the size of the plastic ranged from the width of a human hair down to the size of a red blood cell. Some bottles had thousands. A few effectively had no plastic at all. One brand had a concentration of more than 10,000 particles per liter. Take a look at the number of plastic particles in each brand's bottles by clicking on the image below.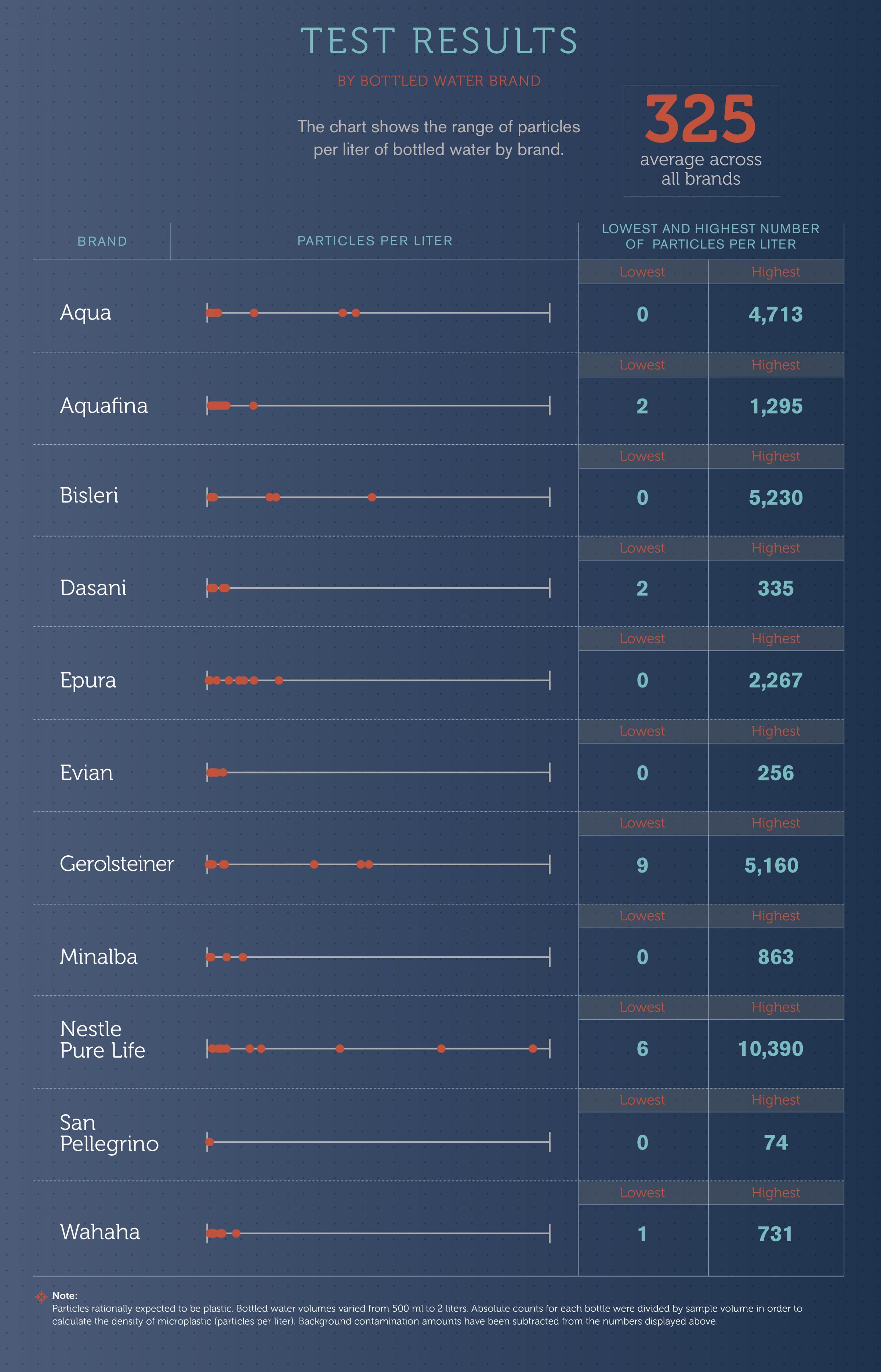 Right now, scientists don't know the impact the plastic has on the human body. Scientific research says plastic particles can affect individual's bodies in different ways.