This is an archived article and the information in the article may be outdated. Please look at the time stamp on the story to see when it was last updated.
It's our favorite time of year here at WHNT! It's fall launch week! Which means there are plenty of new shows for you to enjoy on CBS.
CBS is kicking off week two of its fall launch with the new comedy THE NEIGHBORHOOD. Life is perfect for the Butler family. Their neighborhood is exactly the way they like it. At least until their new neighbors move in. Most of us have felt wary of a neighbor before, but this unlikely bunch is sure to get into some uncomfortable situations you won't want to miss. Speaking of uncomfortable situations; Jake and Claire are living in a more uncomfortable situation than any of us could ever have imagined. Having a superstar in your home is bound to cause a few hiccups, but all in all these three are sure to be HAPPY TOGETHER.
We fell in love with the reboot of MAGNUM P.I. last week. So you definitely won't want to miss episode two! Let the action-packed adventures of Thomas Magnum continue!
Lastly, we're finishing with an oldie but a goodie. BULL made a reappearance last Monday. In this week's episode Bull finds himself in a sticky situation. Serving as a juror and building a defense.
This line-up begins at 7PM Central time.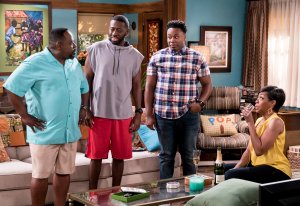 THE NEIGHBORHOOD
"Pilot" – Cedric the Entertainer, Max Greenfield, Beth Behrs and Tichina Arnold star in a comedy about what happens when Dave Johnson (Greenfield), a friendly guy from the Midwest, moves his family to a Los Angeles neighborhood next door to Calvin Butler (Cedric), who's concerned the Johnsons will disrupt the culture on the block and doesn't appreciate Dave's extreme neighborliness, on the series premiere of THE NEIGHBORHOOD, Monday, Oct. 1, (8:00-8:30 PM, ET/PT) on the CBS Television Network. Sheaun McKinney, Marcel Spears and Hank Greenspan also star.
Dave Johnson is a good-natured professional conflict negotiator. When his wife Gemma gets a job as a school principal in L.A., they move from Michigan with their young son, Grover, unfazed that their new dream home is located in a community quite different from their small town. Their opinionated next-door neighbor, Calvin, is wary of the newcomers, while Calvin's gracious wife, Tina, rolls out the welcome wagon. Their chipper younger son, Marty, thinks the Johnsons could be good for the community, and their unemployed older son, Malcolm, finds that Dave may finally be someone who understands him. Dave realizes that fitting into their new community is more complex than he expected, but if he can find a way to connect with Calvin, they have an excellent chance of making their new neighborhood their home.
HAPPY TOGETHER
"Pilot" – Damon Wayans Jr., Amber Stevens West and Felix Mallard star in a new comedy about a 30-something, happily married couple who begin to reconnect with their younger, cooler selves when a young pop star drawn to their super-ordinary suburban life unexpectedly moves in with them, on the series premiere of HAPPY TOGETHER, Monday, Oct. 1 (8:30-9:00 PM, ET/PT) on the CBS Television Network. Stephnie Weir, Victor Williams and Chris Parnell also star.
Jake, an accountant, and his dream wife, Claire, a restaurant and bar designer, are very comfortably settled into their marriage, enjoying evenings together on the couch watching TV and scheduling time to change their outgoing voicemail message. Their tame routine gets a makeover when Jake's client, exuberant music superstar Cooper James, arrives on their doorstep looking for refuge from the paparazzi following a high-profile break-up with his girlfriend. Jake and Claire quickly discover there's no way they can keep up with their world-famous houseguest's effortlessly cool, fast-paced lifestyle. Cooper, however, enjoys Jake and Claire's more relaxed way of life, discovering that a touch of ordinary can be extraordinary for all three of them.
MAGNUM P.I.
"From the Head Down" – Magnum helps Dan (Carl Weathers), a struggling fisherman and fellow veteran, when his 300-pound tuna worth $350,000 is stolen, and he discovers that the thief needs Magnum's help as well, on MAGNUM P.I.
BULL
"Jury Duty" – Bull finds himself on the opposite side of voir dire, when he serves jury duty while simultaneously mounting a defense for a woman on trial for killing her daughter's murderer, on BULL.