This is an archived article and the information in the article may be outdated. Please look at the time stamp on the story to see when it was last updated.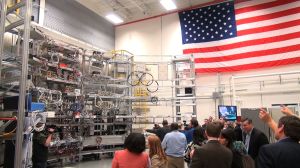 HUNTSVILLE, Ala. (WHNT) – NASA Administrator Charles Bolden today toured the agency's Marshall Space Flight Center in Huntsville where testing is underway on the avionics unit for the largest, most powerful rocket ever built.
At Marshall's System Integration Laboratory, Bolden, along with staff from Alabama's congressional delegation and community leaders, had the opportunity to view the Space Launch System (SLS) avionics unit arranged in flight configuration, along with booster hardware, which are being integrated and tested together to ultimately guide the entire vehicle. He also watched flight software simulations of how SLS will perform during launch.
"It's great to be back at Marshall and see, firsthand, the impressive progress made by the SLS team," said Bolden. "SLS will help take American astronauts an asteroid and Mars, and it all starts here in Huntsville. My hat's off to the entire team for their hard work."
The completed rocket will stand 321 feet tall and include the core stage, which stores the cryogenic liquid hydrogen and liquid oxygen that will fuel the vehicle's four RS-25 engines and, with two five-segment solid rocket boosters, power the rocket.
The avionics unit — including its hardware, software and operating systems — will guide the rocket to deep space destinations, including an asteroid and Mars. The flight computers will be housed in the SLS core stage, while other avionics are distributed throughout the vehicle.
Engineers from NASA and Boeing, the prime contract for the SLS core stage and avionics, integrated and powered up the core stage avionics unit for its initial run, called "First Light," in early January and have since been running numerous tests using the latest flight software.
"This is a significant and exciting milestone for both NASA and Boeing," said Lisa Blue, stages avionics system manager in the SLS Program Office. "We are using and testing technologies that include the most powerful computer processor ever used in a flight system."
In 2015, the avionics unit will be shipped to NASA's Michoud Assembly Facility in New Orleans, where the core stage is being manufactured, and attached to the actual rocket.
For its first flight test in 2017, the SLS will be configured to lift 70 metric tons (77 tons), and carry an unmanned Orion spacecraft beyond low-Earth orbit. In its final stage of evolution, the SLS will provide an unprecedented lift capability of 130 metric tons (143 tons) to enable missions even farther into our solar system. Marshall manages the SLS Program and Michoud Assembly Facility.
Charles Bolden knew full well he'd be talking today about more than avionics hardware, software and operating systems. Like 17.5 billion NASA dollars, for instance.
"The President's budget that I had an opportunity to roll out a couple of weeks ago - people always ask me 'are you happy?' - I'm a real happy camper," Bolden smiled.
"I am very happy with the amount of money we got because it really keeps us on this steady path that we have been embarking on for the last five years," he continued.
Bolden says NASA had some very particular agenda items to accomplish including safely and efficiently flying out the space shuttle at the completion of the International space station.
"Also, the step-by-step development of SLS. We're giving you a 50 metric ton vehicle to start with - we're going to fly Orion next fall, that's like  - months away from now. You know a couple of years ago I said 'in a few years,' we are now months away from flying Orion."
Finally planning another launch of a  Multi-Purpose Crew Vehicle for beyond-low Earth orbit - that's a big deal, according to Bolden.
"That's a very huge milestone for our exploration program," Bolden finished.
Click here for more information on SLS.