This is an archived article and the information in the article may be outdated. Please look at the time stamp on the story to see when it was last updated.
LIMESTONE COUNTY, Ala. - A passion project that began in North Alabama is spreading throughout the state to help children when they are experiencing a particular trauma: forcibly leaving home.
Lori Warren, President of Alabama Court Reporting, Inc., recognized a problem there. She said in many cases for children whose parents can no longer take care of them (because of arrests, serious car accidents, or domestic situations) police are involved, and there is very little time to make the children comfortable. Often, their belongings are hastily placed in a garbage bag before they are moved to a foster home or other care.
"There's not a situation any worse that an officer has to deal with than when sometimes, you have to be removing a child from a home and that child is kicking, screaming, and does not want to leave," said Limestone County Sheriff Mike Blakely. "There's a lot of times when that happens, and you appreciate anything you can do to lessen the traumatic impact on that child."
That's why Warren began the My Guardian Angel Project when she started her business. She wanted to give the children something to not only place their items, but carry with them throughout all of life's tough times.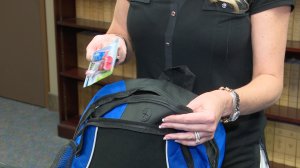 Her firm donates the proceeds from each deposition they work on, to buy backpacks that they then give to law enforcement agencies around the state. These officers can give the backpacks to children who are in need.
"It's comforting. It's safety. It's something they can call their own," she said. "If they're put into foster care, they can keep their things in it as they're moved. If they need a backpack for school they can use it for school. It's versatile."
She said this also helps a child feel more dignity during those tough times.
"The implications of, 'Am I trash too? Because my things are being put in a trash bag.' The connotation that that can leave a child," she noted.
Friday, the firm donated many backpacks to the Limestone County Sheriff's Office. Blakely agrees that his officers will feel good about giving these packs to a child.
"I'm excited about it. I think it's a great thing," said Blakely. "A lot of the kids we deal with in situations like this are going to be children who probably don't even have a backpack when they go to school in the morning. And that's why it's exciting to me. This is a thing that can put a smile on somebody's face... They'll know there's somebody there that cares for them."
Warren said the backpack shows no indication of what officer, law enforcement agency, or company donated the pack to the child. But it does have a logo shaped like wings.
"Wings of strength," she noted. "So it reminds you of someone taking care of you."
She wants to spread this project across the whole state, and believes it can change the way some children view police.
She said she hopes children truly feel the love of someone on the lookout for them, even in their toughest days, when they use their backpacks.
"They may not remember Alabama Court Reporting, they may not remember the officer," she said. "But what they will remember is that in that moment in time, that officer was their guardian angel."