This is an archived article and the information in the article may be outdated. Please look at the time stamp on the story to see when it was last updated.
DECATUR, Ala. (WHNT) – A dog was killed recently as the Morgan County Drug Task Force served a search warrant.  Now, the Sheriff's Office is fielding complaints about the animal's death.
The dog was shot while the Morgan County Drug Task Force was conducting a search for illegal sales/possession of narcotics and marijuana at the Cedar Key Apartments in Decatur.   Four people were arrested.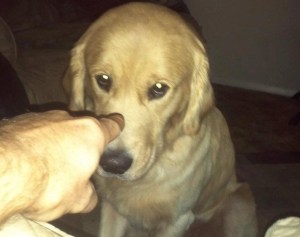 Someone has set up a Facebook page called 'Justice for Aubie', the golden retriever who was shot.  Be warned, the Facebook page contains graphic pictures of the dog after it was shot.
It's not clear who set up the page.  It only says it was "created in honor of Aubie, a golden retriever who was shot and killed without reason during a search by Morgan County Sheriff's Office."
Sheriff Franklin said at a news conference Monday that information on the Facebook page is wrong.   "The comments on Facebook are inaccurate," Franklin said at a Monday afternoon news conference.   "It's false.  It's intended to mislead the public and to alarm them and aggravate them."
Franklin says deputies were forced to shoot the dog when it lunged at them.  She says comments that deputies should have called in animal services before deputies entered are ridiculous.  Franklin says deputies were forced with a split-second decision and they did the right thing. 
Sheriff Franklin also issued a stern warning.  
"If you're a dope dealer and you've got a dog, and you've got that dog to protect you, and you've got that dog to try and limit us, then you need to be aware of the fact that if it makes an aggressive move toward us, or anybody else, there is a possibility it's going to be shot," said Franklin.