This is an archived article and the information in the article may be outdated. Please look at the time stamp on the story to see when it was last updated.
MORGAN COUNTY, Ala. — Two men have been arrested in connection to the case of a Morgan County Detention Facility inmate being found with a contraband cell phone.
On December 9, detention deputies of the Morgan County Detention Facility acquired information that an inmate had a cell phone within the facility. The detention deputies, along with criminal investigators from the Morgan County Sheriff's Office, conducted a search of the facility. They found a cell phone accompanied with a charging system made of AA batteries.
Following the discovery of the cell phone, investigators conducted a thorough internal investigation of the facility which included watching video, interviewing inmates and employees, reviewing recorded phone calls, and collecting data from the cell phone itself.
On December 14 investigators arrested Telly Atkins, 22, in connection to the case. Atkins was employed as a detention deputy at the detention facility starting in March 2015. He has been charged with one count of Custodial Sexual Misconduct and three counts of Promoting Prison Contraband. He was released on a $3,400 bond.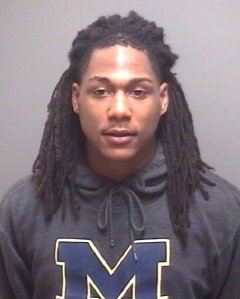 Another arrest was made in connection to the case– Tobias Mitchell, 19, was charged with Promoting Prison Contraband. Mitchell is still in custody on a previous charge of Probation Violation on a Distribution of Marijuana charge.