This is an archived article and the information in the article may be outdated. Please look at the time stamp on the story to see when it was last updated.
HUNTSVILLE, Ala. (WHNT) -- Reporter Matt Kroschel witnessed something he did not expect Wednesday while on assignment at the Huntsville International Airport.
We were not tipped off ahead of time, there was no press release and at first glance, it might have seemed too 'ordinary' to be newsworthy.
But then you read the homemade signs.
"Welcome Home."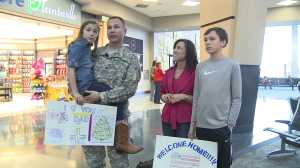 Karl Kraus was welcomed home by his wife Tiffany and kids, Abby and Kohl Wednesday afternoon. He has been serving in Iraq, away from home for the past six months. Now he is home just in time for Christmas.
"We did not know what exact dates until today we were not anticipating today, but what a terrific opportunity to be together again," Karl Kraus said.
The family will only have two weeks together before Karl heads back to Iraq but they say it will well spent time together for Christmas.
You can join in the discussion on Twitter with other WHNT News 19 viewers about this story by using hash tag #WelcomeHome