This is an archived article and the information in the article may be outdated. Please look at the time stamp on the story to see when it was last updated.
MEMPHIS, Tenn. (WHNT) -Memphis Police are on the lookout for Termaine Wilbourn. He's the man suspected of murdering Police Officer Sean Bolton, 33, during a traffic stop.
The incident happened around 9:15 a.m. Saturday.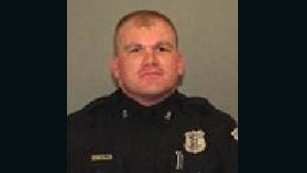 Officer Sean Bolton saw an illegally parked car on the streets of Memphis, pulled up in front of it and shone his spotlight.
When he approached the vehicle, a passenger confronted him.
A struggle ensued, and the passenger shot Bolton multiple times, authorities said. The car drove off, leaving the officer for the dead.
"Officer Bolton apparently interrupted some sort of drug transaction," Memphis Police Director Toney Armstrong said. "A digital scale and a small baggie of marijuana … were located inside of the vehicle."
Memphis police identified Tremaine Wilbourn, 29, as the suspect. He is on the run, and considered armed and dangerous.
Nearby residents heard the gunshots. One used Bolton's radio to call for help, which arrived and took him to the hospital in critical condition. He was later pronounced dead.
MNPoliceClips.com released the recording of the dispatch interaction about fallen officer Sean Bolton.
Armstrong described the suspect as a "coward."
"You gunned down, you murdered a police officer, for less than 2 grams of marijuana," he said. " You literally destroyed a family."
Bolton, 33, is one of 19 officers killed nationwide this year by violent suspects. The deaths at the hands of suspects run the gamut — veterans and rookie officers — and span the nation — from Georgia to California
The violence was senseless given how mundane the stop was, Armstrong said.
"We're talking about less than 2 grams of marijuana. You're talking about a misdemeanor citation," he said. "We probably would not have even transported for that."
Memphis Mayor A C Wharton gave his condolences to the family, the fellow officers and the City of Memphis.
"There are so many guns in the wrong hands, that's the key," Mayor Wharton said. "The men and women in blue have certain rules of engagement they have to follow but at any given minute, in a 24 hour day, they're dealing with folks who have no rules."
The vehicle's driver later turned himself into police and was released without charge.
Authorities are offering a $10,000 reward for information leading to Wilbourn's arrest. He is out on supervised release for a 121-month sentence for robbery, according to Armstrong.