This is an archived article and the information in the article may be outdated. Please look at the time stamp on the story to see when it was last updated.
There were empty chairs at the Glenwood Cemetery Memorial Day Service, something active military members want to change next year.
The annual event drew only a few dozen residents to the historic cemetery that is the final resting place for dozens of United States servicemen.
There was a brass band, flag ceremony and singers, all tributes to our fallen soldiers, but the one thing missing was a cro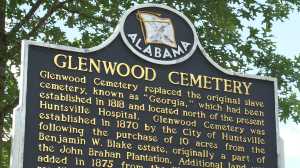 wd.
"Memorial Day is not a day to celebrate and BBQ, this is a day to remember our fallen soldiers that gave the ultimate sacrifice for our country," US Army Colonel Lawrence Fuller told WHNT News 19.
Fuller was the guest speaker at the service sponsored by Urban Emphasis Scout Leaders Council and Associated Scout Units in Huntsville.
 "The majority of our nation does not even realize what our military does for this nation," Lawrence added.
Lawrence said despite the small crowd  he appreciated seeing so many young people participating in the event.
Event organizers said next year they plan on doing more ahead of the holiday to reach out to the community with details about the event in hopes of drawing a more people.