This is an archived article and the information in the article may be outdated. Please look at the time stamp on the story to see when it was last updated.
TOWN CREEK, Ala.  (WHNT) – Fake money is off the streets and one Town Creek man is behind bars.
According to Town Creek Police Chief, Jerry Garrett, officers arrested 20-year-old Benjamin "BJ" Howlet for possession of counterfeit currency and a large amount of fake bills.
A grand jury handed down an indictment for Howlet's arrest for unlawful distribution of a controlled substance.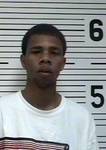 As Lawrence County Sheriff's deputies search Howlet's home on Bradley Street in Town Creek, investigators found $1020.00 in counterfeit currency concealed in Howlet's pants pocket.  According to detectives, Howlet requested a cigarette from a pack of cigarettes that were located in the same pants pocket that contained the counterfeit currency. When an officer retrieved the cigarette pack, officers found the fake cash.  Howlet stated the currency was not his and that he was asked by a friend to hold the currency. According to the Lawrence County Sheriff's office, all the bills had the same denomination and serial numbers.
Howlet was arrested on the grand jury indictment and booked into the county jail on a $15,000.00 bond.  Howlet was also charged with Possession of a Forged Instrument.