This is an archived article and the information in the article may be outdated. Please look at the time stamp on the story to see when it was last updated.
NASHVILLE, TN — The man accused of killing a nurse has been indicted by the Davidson County grand jury on several charges.
Christopher McLawhorn is charged with two counts of first-degree murder, especially aggravated burglary and two counts of theft of property under $1,000.
Police say McLawhorn stabbed 23-year-old Tiffany Ferguson multiple times while burglarizing her apartment in the Wedgewood area on Feb. 28.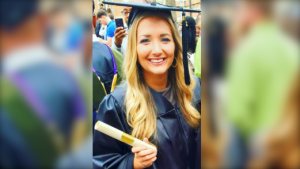 After reviewing surveillance video, police said McLawhorn was going around the building looking for open vehicles and open apartment doors. He allegedly entered Ferguson's condo through an unlocked door and began searching for valuables.
After being identified as a person of interest in the case, 25-year-old McLawhorn was arrested in March.
During the hours after the incident, detectives say McLawhorn searched for news articles on the stabbing and whether rain could wash away fingerprints. The next day, McLawhorn allegedly visited a pornographic website using the terms "murderotica" and "suffocation."
The victim, Tiffany Ferguson, was a nursing student at the University of North Alabama in Florence before graduating and moving to Nashville.