This is an archived article and the information in the article may be outdated. Please look at the time stamp on the story to see when it was last updated.
MADISON COUNTY, Ala. (WHNT)-- Jail records reveal Bradley Skinner is back in jail after being mistakenly released last week.
An order of release that was "entered in error" allowed Skinner to walk free, according to court documents.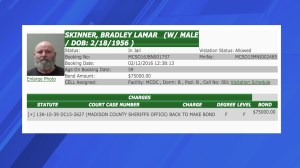 Skinner, 59, was arrested and has been in jail since May after a complicated double shooting last April. Police say he broke into a Bonnie Oaks Drive home where he threatened his estranged wife with a gun. She shot him, according to police, and then officers who arrived on-scene found her with her weapon and misread the situation, shooting her. Both the woman and Bradley Skinner survived their injuries.
Court records show Skinner had been in jail since that May incident, waiting on a grand jury to decide if his burglary and domestic violence cases will move forward. He told the court he can't pay the $75,000 bond to get out.
His attorney filed motions for a speedy trial, as well as for dismissal due to lack of prosecution recently, trying to move things along. The documents indicated Skinner would be in jail until some kind of resolution, and the prosecution wants to keep Skinner "locked up as long as possible" at the request of his estranged wife. She reportedly fears for her safety should he get out.
The attorney asked Skinner have priority for trial.
A judge denied the motion to dismiss on February 8.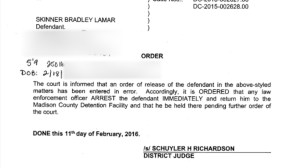 But Skinner was then released. A judge filed an order soon after, asking officers to arrest Skinner immediately and return him to imprisonment.
Jail records indicate he was arrested on the 12th.