This is an archived article and the information in the article may be outdated. Please look at the time stamp on the story to see when it was last updated.
MADISON, Ala. – UPDATE: If you missed the debate, click here to watch it on WHNT.com.
With municipal elections just around the corner, many north Alabama cities will elect mayors, city council candidates and school board members.
In Madison, three candidates are running for mayor: current Mayor Troy Trulock, former Mayor Paul Finley and businessman Hanu Karlapalem.  Read our Q&A with the candidates.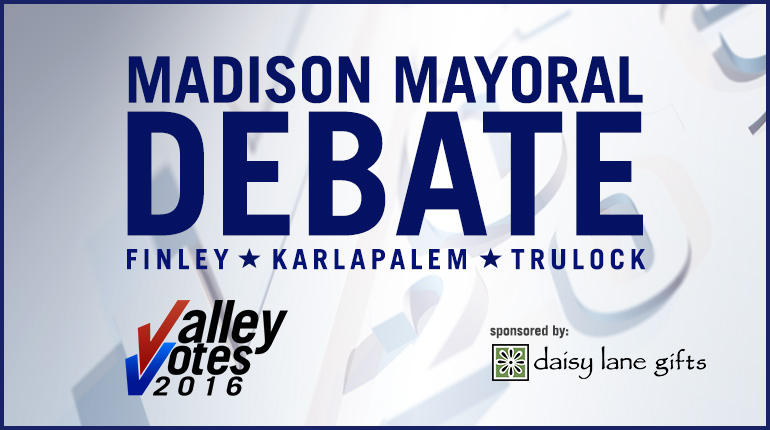 WHNT News 19 is teaming up with the Madison City PTA to host a mayoral debate on Wednesday, August 17. The public is invited to come and watch the candidates talk about the issues.
"Who our politicians are affects our education in Madison city, so we looked at this as an opportunity to get the public informed about who our candidates are and what their platforms are," said Chris Cornelius, Madison City PTA President.
The debate is from 7 to 8 p.m. at James Clemens High School.  We will televise the debate LIVE on our second channel, WHNT2.  We invite you to watch our debate and see where the candidates stand on the issues facing the city of Madison.  You can also attend in person.
"I hope we have a good turnout. I hope we have a lot of people from Madison city there," said Cornelius. "I hope they come out and really get what they're looking for from the candidates."
In the coming weeks, the Madison City PTA will seek input from the public on what kind of questions you'd like the candidates to answer. You can also leave a question in the contact form below.
"If you've got a public that understands what's going on and they understand the issues at hand, then they're more likely to come up with solutions and help with solutions instead of coming around complaining that they didn't get what they wanted in the first place," Cornelius added.
Watch the debate on August 17 and vote on August 23.  That's day municipal elections are held across Alabama.