This is an archived article and the information in the article may be outdated. Please look at the time stamp on the story to see when it was last updated.
MADISON COUNTY, Ala.-Firefighters have spent the day battling flames at a well-known flea market at the Madison-Limestone County line.
'A Town Too Tough To Die'. That's the motto of Ghostown Flea Market, and on Tuesday Ghostown remains resilient in the face of a fire.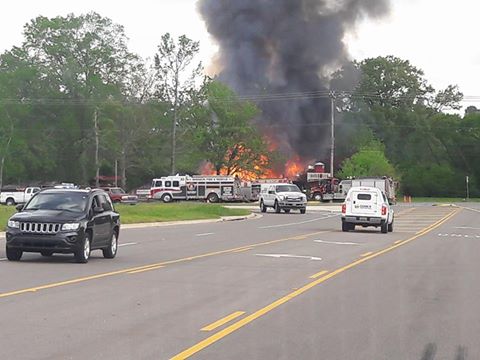 Located off Highway 72 and Holladay Boulevard, fire departments responded to a structure fire at the flea market around 10:00 am Tuesday morning.
The East Limestone fire departments and Madison fire departments assisted with battling the fully involved fire that was burning at the back of just one building of the flea market.
No one was inside at the time of the fire, but that main building is now a total loss. However, officials said the rest of the flea market didn't sustain any fire or smoke damage.
The fire departments worked on the fire for hours, with most of the wreckage just smoldering and parts still burning.
The fire caused both the east and westbound lanes of Highway 72 to be shut down while crews worked on it, causing significant traffic delays.
The cause of the fire has not been determined yet, but crews are working to get to the bottom of it.